Resin printing is a little more difficult than printing with filament. You will need not only a few important printing tools but also need to choose the best resin for 3D printer.
It is easy to get confused while picking the right one when faced with a variety of colors and types. We all want it to print quickly while being strong and not easy to break.
In this post, you can find a list of some good products we have used and reviewed.
Moreover, if you have any questions about this kind of printing, we also answer some of them below. 
Let's take a look!
The Top-Rated Resin For 3d Printer (Recommendations)
1 – ANYCUBIC 3D PRINTER RESIN – TOP PICK
2 – SIRAYA TECH FAST – FAST AND SMOOTH
3 – EPAX HARD RESIN – BEST RESIN 3D PRINTER MINIATURES
4 – IFUN JEWELRY CASTING RESIN
6 – SIRAYA TECH BLU
---
Types Of Resin
Smooth surfaces, high quality, detailed results, and a wide range of finishing and post-processing options are the main benefits of the 3D printing glue.
But first, let's take a closer look at each of the five common ones. 
1 – Standard
It is a material that offers excellent quality at a low cost, making it the ideal cheap option.
It comes with or without support, and the support can be removed easily with tools and sandpaper. This is a high detail glue that is clear, smooth to the touch, and simple to paint and do the post-process.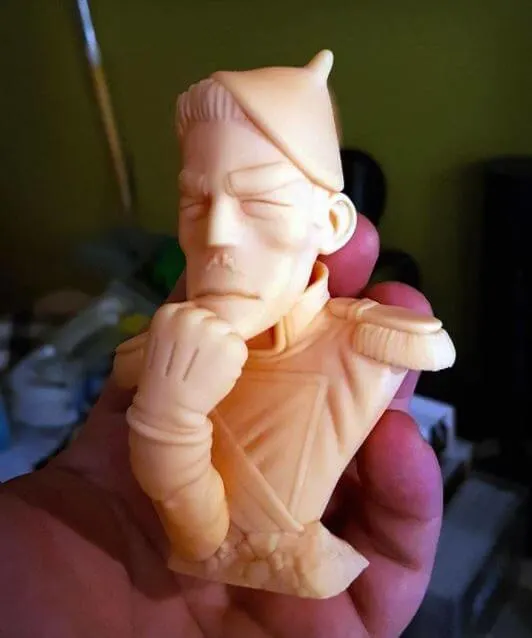 Source: In3Dplus
2 – Gray
Some people call it the Prime Gray.
This is an extremely smooth material that is easier to paint than almost all other 3D printing materials.
Natural Gray (Air Force Gray) is the normal finish, although there are nine more colors to pick from: white, black, blue, green, yellow, gray, red, orange, and brown. You can, however, paint it yourself. 
Source: i.materialise
3 – Mammoth
The main benefit of this material is that it allows you to print in huge sizes: 2100x700x800mm.
It is also of comparable quality and smoothness to the other ones. So, if you are looking to print a huge item, it is the best resin for 3D printer you need.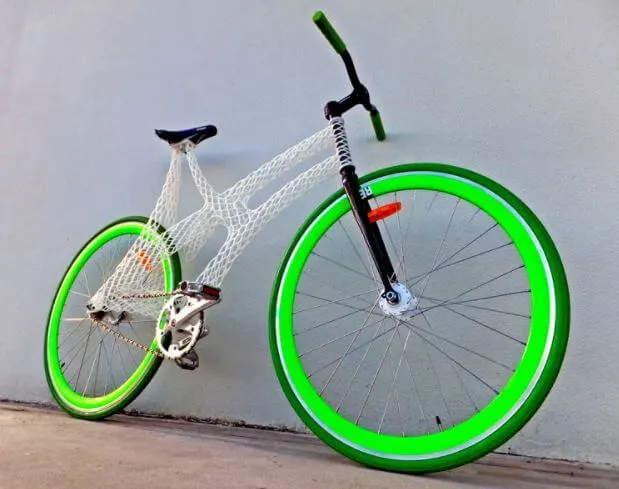 Bike frame printed by Mammoth (Source: i.materialise)
4 – Transparent
This is the option to go if you wish to print in a transparent material, as the name implies.
Water-resistant by nature, the material is perfect for smaller models that require a smooth, high-quality, transparent surface.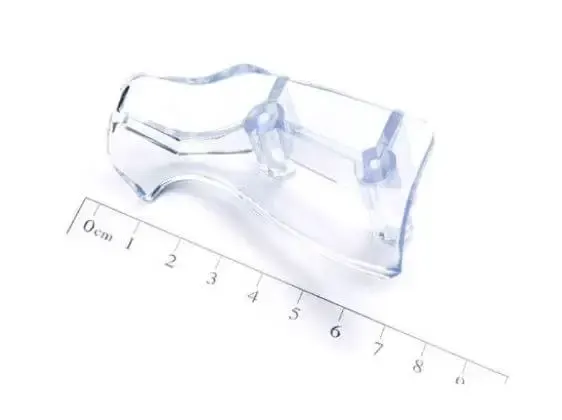 Source: i.materialise
This product uses Poly Jet technology instead of the SLA. It drops ultra-thin layers onto a build base. UV light will harden each layer quickly. This process is repeated until the model is complete, layer by layer.
For complex objects, you may need a supports structure. It can be removed by hand or water jetting after the printing process is completed. Choose High Detail Resin if you need a compact model with a lot of detail and a smooth surface.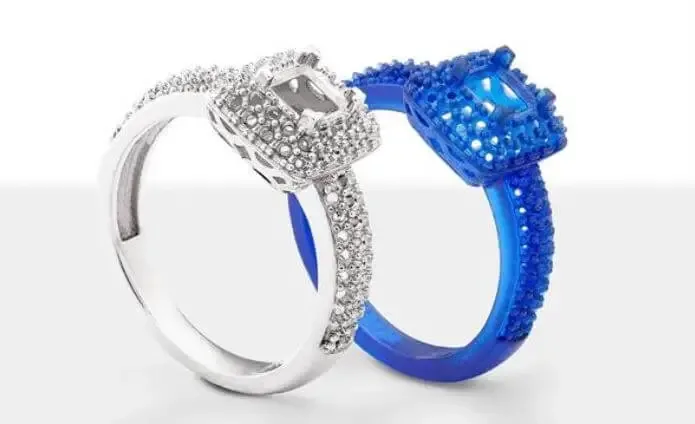 Source: Make Mode
Why Do People Like SLA Printing?
When it comes to working with resin material, the most popular technology is SLA. 
There are many reasons why people choose SLA instead of other technologies:
1 – Isotropy
A layer at a time is printed by the 3D printer. However, due to the pieces' sticking in the printing processes, there are differences in the strength of the various prints. Glue 3D creates isotropic pieces in the SLA way.
A few things are affected by the mixing materials used in the printing process.
To create isotropy parts in this technology, the materials make a strong bond layer by layer. The semi-reactive condition of the 3D-printed pieces remains.
At that point, the materials still have the curing group, which aids in the formation of linkages between layers. This is what causes the thing to cure with isotropy and water tightness.
This is why you can use SLA in fixtures, jigs, and functional prototyping.
Whether solid features or the internal channel is used, the best resin for 3D printer is water-proof.
This is very important, especially when making an object that must handle both water and air. People are now using resin-printed parts to make automobile things, medical items, or even home appliances, taking advantage of this water tightness. 
3 – Accuracy and high precision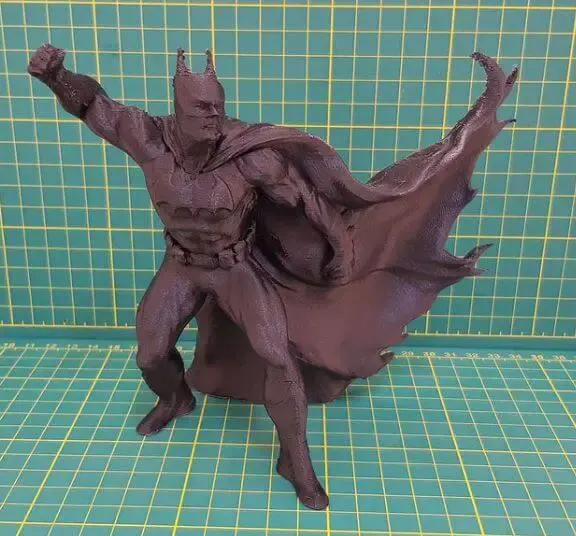 With SLA technology, we can make precise and exact items. This allows SLA to be used in dental production. The accuracy is a standard when compare SLA to other methods. In addition, it also has the strongest tolerance. 
Parts are made in a hot glue tank and a closed build frame.
Because SLA uses light instead of heat, the printing temperature is lower, leading to improved details.
The printing work takes place at room temperature, which protects it from external damage.
4 – Smooth surface and versatility
SLA printers are the gold standard for smooth surface finish, with results that are close to traditional treating ways like machining, injection molding, and extrusion.
Because you can easily sand, polish, and paint parts, this surface quality is ideal for things that need a perfect finish. It also helps save your post-processing time.
Best Resin For 3D Printer
Shortlist
*Ratings are from Amazon at the time of publication and can change
Best Resin For 3D Printer: Which One To Choose?
Pros:
Affordable price 
Good clarity
Easy to use 
Quick curing with excellent fluidity
Different colors to choose
Cons: 
Cloudy issues if not being cured correctly
Clear type can turn into yellow color
Pros:
Do not have a bad smell
Quick and smooth print
Fast speed
Easy to clean and cure
Cons:
White color can fade if over-cured
Compare ANYCUBIC and SIRAYA products: (108) Anycubic vs Siraya Tech resin 
3 – EPAX HARD RESIN – BEST RESIN 3D PRINTER MINIATURES
Pros:
Helps objects become tougher and survive through falling to the floor
Stable and can handle more background light
Great for mono screen LCD machines
Hard finish with great toughness
Best resin for 3D printing miniatures
Cons:
Expensive
Still quite fragile
Pros:
Ideal product for casting results (bronze, copper, tin or iron)
Low thermal expansion and reduce burnout
Smooth surface with high detail 
Perfect to make jewelry, crafts, accessories
Cons:
Hard to stick to the build plate
Hard to work with
IFUN testing and review: (108) Elegoo Mars and ifun Castable! Review, Settings and Examples!
Pros:
Great value for money
Have consistent quality 
Good for post processing
Varieties of bright and stunning colors
Cons:
Easy to break 
Some parts turn yellow after cured
Test Elegoo products: (108) How much can you print with 1 bottle of resin? | Elegoo Saturn / Elegoo Mars 2 Pro
Pros:
Good for tough objects
Pretty finish
Impact-resistant
Cons:
Expensive
Bad smell
Holes in the prints happen easily
Compare Siraya Blu and PETG filament: (108) Siraya Blu vs PETG 3D printed bolts and nuts – a rematch of resin vs filament experiment
Pros:
Different colors to choose
Great stability
Fast curing with great detail
Affordable price
Cons:
Some users face the bottle leak issue
WEISTEK printer and resin testing and first impression: (108) Sub 200$ 3D Printer – Weistek W5501 – Unboxing & First Print
Choosing Tips
Standard type is ideal for projects that need a smooth injection molding-like surface quality.
Choose a tough type for parts that need to be strong; durable type for parts that are durable or have moving elements; ceramic type for things with fine features.
Rubber-like type does not have the same quality as real rubber, but it can make parts with low hardness and high flexibility.
Types that can handle high temperatures tend to be easy to break
Bio-based type is suitable for external contact with the human body
Safety Guidelines For Resin 3D Printing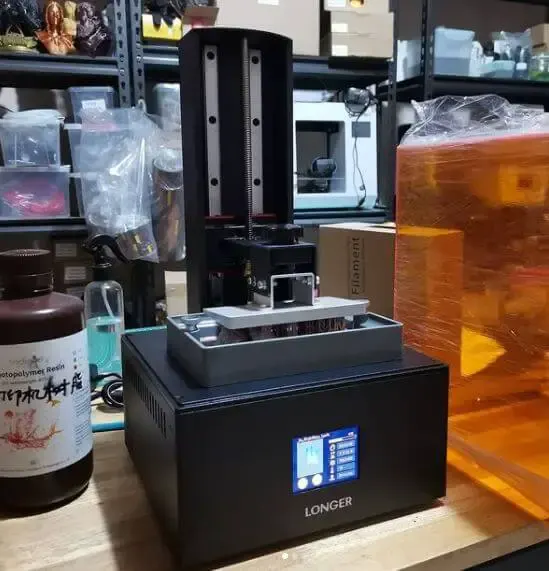 When it comes to safety, resin 3D printing is more dangerous than the normal FDM. Therefore, you should treat it carefully. 
1 – Do not contact uncured item
It is important to wear protective gloves if you are working with uncured resin. Handle glue bottles with care and avoid touching uncured one. 
Uncured glue can cause skin irritations or burns, so if you come into contact with it, clean the affected area with soap and water as soon as possible.
2 – Work in a well-ventilated space
It is necessary to have a well-ventilated space when working. Resin and cleaning chemical fumes are toxic and you should not inhale. You can reduce the effects of any left fumes by using a face mask.
Even if some 3D printers include carbon filters or good insulation, using it in the same place where you live or work is not a good idea. Try to use your machine in a separate room with good airflow if at all possible.
3 – Store properly
Make sure you are using the proper storage ways to keep the UV curable ones. The containers should be tightly sealed and kept in a dark, dry location. Another important factor is room temperature. Ensure that the temperature is within the manufacturer's recommended range.
Furthermore, avoid making the rookie mistake of completely filling the containers. This will cause it to gel, requiring you to remove it before ever attempting to use it. Allowing some space can easily prevent this.
Most importantly, never store uncured resin in the same area with human or pet food. Instead, keep it in a separate, dedicated space away from all the others.
Best Resin For 3D Printer: Factors To Consider Before Buying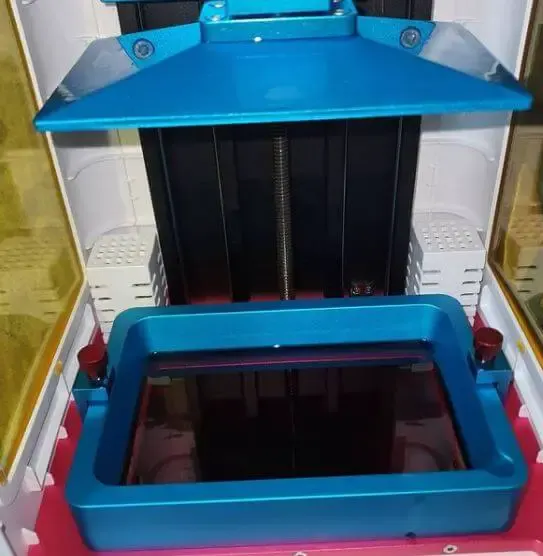 1 – Quality
When it comes to quality, resin comes out on top. It is far better than the other filaments. Using an FDM machine to meet the same quality will increase the printing time, resulting in greater prices. SLA technology uses a powerful laser that takes even the smallest moves. This will increase the detail and overall quality. SLA printers also have a lower minimum layer height, which helps with quality as well.
2 – Price
We all know that resin printers' prices are always high. However, nowadays you can find various products with different price ranges, depending on how you are going to use them. Generally, a standard 1-liter can be sold at about $30 to $40. However, you can still find products that are cheaper. 
3 – Usability
In fact, using glue can totally cause a mess. Thus, it is not suggested for beginners. It needs a lot of effort, particularly when you need to remove it from the base. Moreover, to get the final product, you have to remove the resin by soaking it in isopropyl alcohol. Then, cure it with UV light.
You may have to think about what you are going to do first, then choose the product later. Since there are varieties of different categories on the market nowadays, you should spend some time checking its usability before buying.
4 – Strength
Although resin is quite strong, if you need to make large-scale production, you should go for another filament. The resin may be very detailed, but it is very easy to break.
There are hard resins for models that require a tough finish. However, almost all the standard ones are very fragile and easy to break. If you are going to make large things, you may want to choose another filament.  
5 – Safety 
Are resin 3d printers safe? This material emits a lot of toxic fumes and needs to deal with high temperatures. When working, it is advised that you need to take the safety guidelines carefully and wear protection gears to not come into contact with the uncured things. Moreover, you should work in an area that has good airflow, to reduce the chance of inhaling toxic fumes into your body.
Although now you can find many safe-to-eat, safe-to-touch products, it is still very dangerous when uncured. 
Best Resin For 3D Printer: Frequently Asked Questions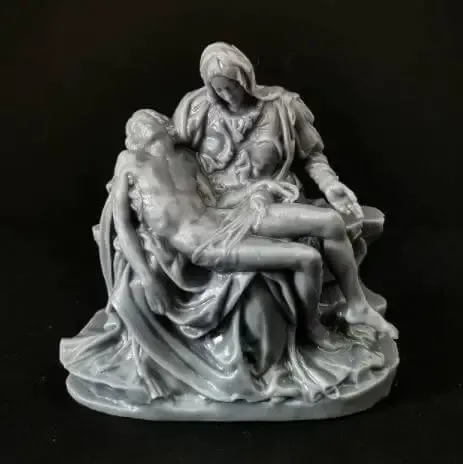 1 – Are Resin Prints Stronger Than FDM Ones?
FDM printed items are generally stronger than resin ones when it comes to strength.
This is true in terms of impact resistance as well as tensile strength. Almost every common filament, such as ABS, PLA, PETG, Nylon, outperforms resin prints.
2 – Can I Mix Different Color Resins?
Mixing different types of resins of the same type is not an issue, and using different colors and/or brands is still fine, but the type must be the same.
Not all resins are dangerous, but a great number are. Therefore it is better to treat all of them with the same level of caution.
3 – Is A Resin 3D Printer Worth It? Do you know phrozen sonic mini 3D printer?
The quality of resolution that a resin printer is good at is amazing.
However, if you want to make large-scale models, cosplay items like armor or helmets, or prototypes quickly, an FDM one may be the better way to go. 
4 – Do resin 3D printers smell bad?
These machines are now widely available and can make a lot of amazing results.
However, with the use of isopropyl alcohol for part cleaning, the fact that some of them have a strong odor. Thus, ventilation can become an issue.
5 – With A Liter Of Resin, How Much Can You Print?
With that much, you can make about 120 to 140 tabletop figures of minis, each measuring about 1 inch tall. If you want to make cubes that are 1 x 1 cm in size, you can get 500 cubes out of it.
Larger models may need more than 1 liter in one go.
Conclusion
Although resin printing is not widely used as FDM or other technology does, but everybody sees the potential for it. It can make objects with a high detail finish quality that FDM can not get, as well as many other benefits. 
We recommend using ANYCUBIC 3D PRINTER RESIN as it comes from a reliable manufacturer in this industry. Moreover, its price is cheap very easy to use. EPAX HARD RESIN is a pick to get if you make miniatures usually. It has all the qualities you need to make a strong and durable figure.  
However, the best resin for 3D printer is still worth a try, even though it is quite expensive. We hope after reading our article, you can find the best product that suits your need and goal.
Further Reading:
Tags: printer,  resin printer,  anycubic photon mono,  larger build volume,  resin siraya tech,  microns,  mm, mono resin printer, build volume ender 3, metal elegoo mars 3 pro, elegoo mars, volume, anycubic photon mono 4k, washable, high lcd screen, formlabs, resolution 3d printing, miniatures, curing 3d prints,  xy resolution, cut, wavelength, wash, hardware, view, form, mars, photon, lcd, resolution