We all know that having the best direct drive extruder really makes a big impact on the overall 3D printing performance. Understanding how this tool works will allow you to become a more efficient user, also increase the quality of your prints greatly. 
In this article, we explained the idea of extruders and why you need to upgrade that small part of your 3D printer.
We also did some reviews and provided a guideline to help to choose the best product as well.
Let's take a look and find which one is the best for you!
The Top-Rated Direct Drive Extruder (Recommendations)
1 – BIQU H2 DUAL GEAR – TOP PICK 
2 – 3DMAN DUAL DRIVE – CHEAP PRICE
3 – GO BMG UNIVERSAL GEARED EXTRUDER – BEST FOR LARGE FORMAT PRINTERS
5 – ORBITER EXTRUDER V1.5 WITH LDO MOTOR
6 – MICRO SWISS FOR CREALITY CR-10 AND ENDER 3 
---
What Is Direct Drive Extruder? 
When it comes to 3D printing, we have 2 main extruder setups: Direct drive and Bowden. In fact, they work on the same basic principle, which is pushing filament through a nozzle by an extruder.  
The extruder is placed on the print head in a direct drive system, pushing the filament directly into the hot end. On the other hand, in the later system, it is normally installed on the printer's frame. As a result, the filament goes to the hot end via a PTFE tube.
Both setups provide the same result, but the different designs have some side effects. Each one has its own pros and cons for you to consider.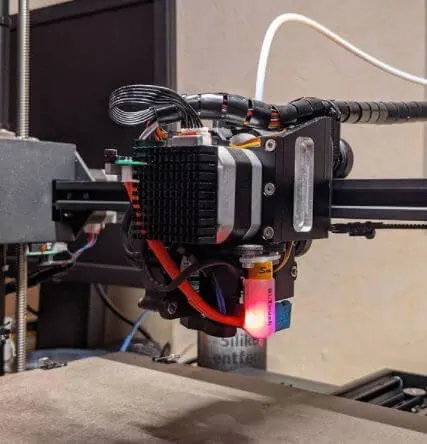 The direct drive system of E3D Prusa V6 (Source: 3DJake Hrvatska)
Pros:
Extrusion reliability: The motor can push filament easily, resulting in fewer problems related to the extrusion. 
Better retraction: Because it is close to the nozzle, it can retract materials more easily.
Due to the short distance between the extruder and the nozzle, the motor requires less force to push.
People tend to believe this system is more matched with a larger choice of filaments. This is especially true for materials that are flexible and abrasive.
Cons:
Vibrations: The print head links to the weight of this part. Its added weight increases speed limits, resulting in more wobbling and possibly a loss of X and Y movement precision.
Also, maintenance is hard since the extruder is mounted to the printhead. This makes it more difficult to get to certain parts for supporting or fixing. 
On the other hand, Bowden extruders allow you to 3D print your items more quickly. It's easier to accelerate or decelerate because only the printing head, not the entire print head hot end, needs to move. So, it depends on your needs. You should think about a few things before deciding which setup option to use for your printer.
The first is the frame's durability. For example, Delta products do not work with direct drive. However, working with the direct setup will be no problem if your machine has a strong frame. 
The amount of time it takes to complete a task is also a key factor. You may prefer a Bowden setup if you want fast and correct things using standard materials.
Finally, think about the materials you want to use to print with. The best direct drive extruder is usually the option if you want to work with flexible or abrasive ones.
How It Works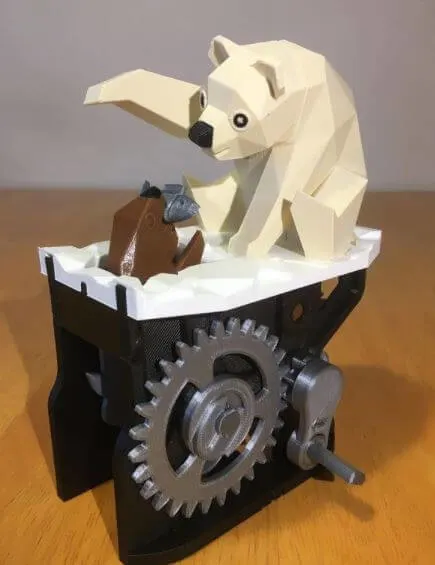 While the process looks to be hard, it is really simple in fact. Each component plays a key role.
The motor, for example, is capable of moving the filament material into the right place. The gears grip the plastic and push it down into the hot end with some force.
Another way to know the act is to think of it as if you were using a glue gun. When using a glue gun, you feed a cold glue stick into the machine, which heats it. You may carefully place it where you need it to finish the project as it melts.
The difference is that instead of your hand, it uses a motor to push the material through. However, the idea is the same: the extruder must hold the filament stable so that it can be melted at the right point. It must also place the material in the correct location.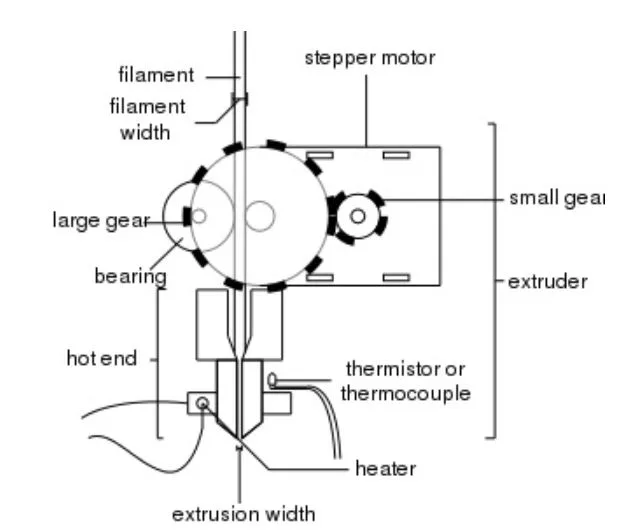 Direct extruder diagram (Source: Fargo 3D Printing)
What Are Cold End And Hot End?
The cold end is the cold part of the 3D printer extruder's upper side. The filament is not being heated at this time. This is only the motor and gearing gear that pushes the 3D printer filament into the hot end. Different systems exist, a mix of gears and hobbed bolts largely shapes the movement of the printing filament.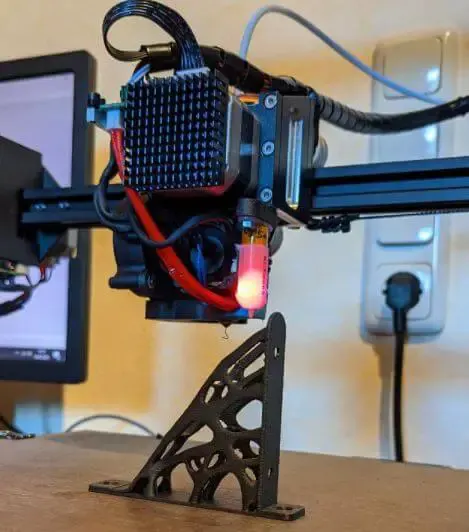 The hot end is where the filament is extruded on the construction plate and transitions from solid to liquid. How is the filament melting, though?
In fact, we need something hot enough to melt materials. Moreover, because we want to get a detailed item, the temperature between the cold filament, the hot end, and the final cold and solid part must be carefully controlled.
The heat break, in relation to the heat sink, maintains a temperature boundary at which the filament is exposed. There is a heater cartridge in the system that is getting hot and delivering heat to the nozzle via the aluminum heater block.
Most of the desktop 3D printers come with 0.4mm nozzles as standard. However different sizes are available. Brass is the most common material for 3D printer nozzles, but there are other choices. If you work with specific materials, you may prefer stainless steel more.
Best Direct Drive Extruder
Shortlist
*Ratings are from Amazon at the time of publication and can change
Best Direct Drive Extruder: Which One To Choose?
Pros:
Lightweight
Compact design
Small filament path allows super flexible printing
Can be upgraded with an all-metal break that helps to raise the temperature higher
Cons:
Work better with small FDM machines with light heat bed
Fan came damaged 
No clear instruction
Test and review BIQU H2 product on Ender 3: (106) Ender 3: Biqu H2 Direct Drive Mod & Test
Pros:
Cheap price
Compatible with most filament
Reduce the motor burden
Easy to install
Cons:
Plastic big gear raises concerns about long term durability
Pros:
The manufacturer upgraded the gear and screw hole's accuracy
Independent motion cabin helps the filament running out smoothly
Upgraded shell using mixed materials
Best for large format printers with heavy heat bed 
Cons:
Hard to install
No instructions included
No plug and play
How a GO BMG product works: (106) How a BMG extruder works and why it's so good
Pros:
Integrated system filament
Can push filament with up to 10kg of force
Compact design
Have new mounting slots
Cons:
Some users reported that it failed mid-print 
Gears seized issue
Fragile cast aluminum parts 
Detail review: (106) E3D's end-all extruder: The Hemera! (Full Review / "formerly known as Hermes")
Pros:
Use high-temperature motor and can output strong torque
Gears made of hardened steel and high precision machine offer the perfect experience with long-lasting
Powerful extruder 
Open source extruder 
Cons:
Product test and review on Seckit SK-GO: (106) Orbiter – Super light weight direct drive extruder on Seckit SK-GO
Pros:
Gears made of hardened steel
Adjustable filament grip
Easy loading
Print with high speed and accuracy 
No need to modify
Cons:
Only for Creality and Ender printers
Hard to set up at first 
A little sloppy sometimes
Creality CR-10 and Ender 3 direct drive dual extruder upgrade: (106) Micro Swiss Dual Gear Direct Drive Upgrade For Ender 3 and CR-10 3D Printers
Problems You May Face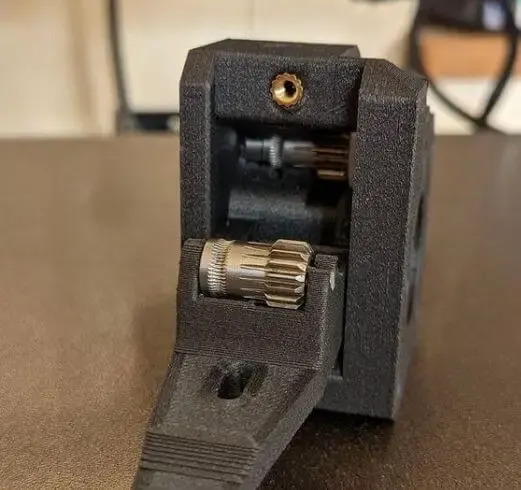 The main issues look the same as with inkjet printers. Even when you have the best direct drive extruder, poor maintenance or the use of the wrong materials will easily lead to deterioration or clogging. If you are having trouble like the following, check your software's extrusion multiplier or flow setting first.
In your machine's software, try lowering the flow setting. We recommend the average decrease is from 3 to 5%.
1 – Under-extrusion:
When a 3D printer can not provide or extrude enough material, it is called under-extrusion. Almost all of the time, this results in missing layers, little dots or holes in layers, or undesired gaps in the design, all of which make the design unfinished. When under-extrusion occurs, print quality and print strength can be damaged.
2 – Over-extrusion: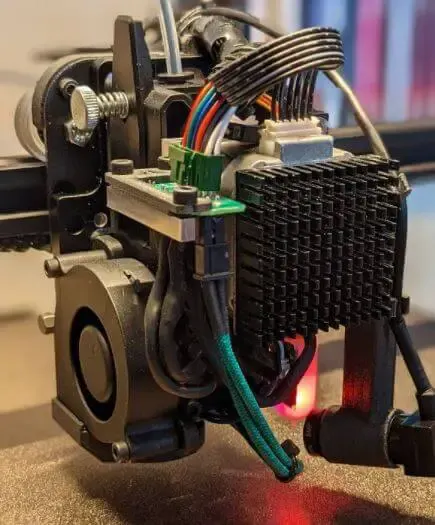 When your printer supplies more material than it needs, this is known as over-extrusion. It can result in a build-up of material on the outside of your printed object.
3 – Overheating:
The temperature of the plastic that comes out of the extruder can range from 190 to 240 ° C.  While the plastic is still hot, it can be easily shaped into various shapes. However, as it cools, it sets quickly. As a result, you must set the right temperature in order to provide the right settings for your material to flow smoothly.
The wrong heat will also damage the final quality of your product. It may be discolored filament as a result of the burning material darkening some layers.
Lower the heat of your hot end if it is too hot. You'll need to find the right temperature to find a balance between melting the filament and allowing it to set fast enough for the next layer to be put to a solid surface. You can decrease the heat in 5 ℃ intervals depending on the degree of the overheating.
What To Look For In The Best Direct Drive Extruder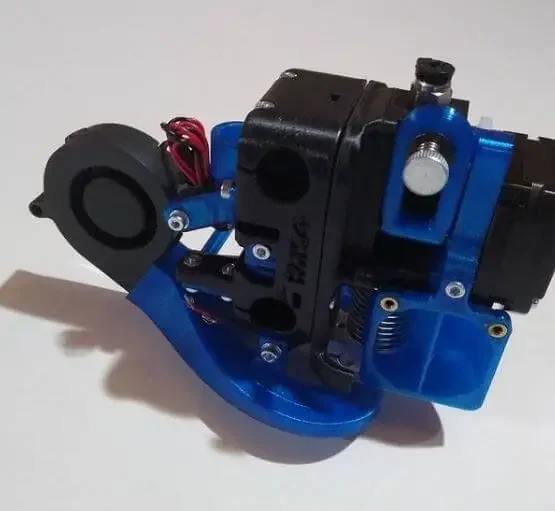 If you are buying for the first time, it is crucial that you understand the most important parts of this component. These things should also help with making your last purchase decision:
1 – Nozzle
The first thing to consider is the nozzle (that most products come along with). Because the nozzle is in control of letting filament flow out over the object, it can have a big impact on how exact your final product is.
Its diameter usually means how fast an object can be printed, as a larger one can push filament more quickly. Keep in mind that you will have to choose between speed and precision in the end, as getting both at the same time is impossible.
2 – Head blocks
The filament is heated before being put via the nozzle to make it more flexible. As a result, the heat block is an essential component of the 3D printer extruder. As you can expect, problems with the heat block could lead to the entire machine failing.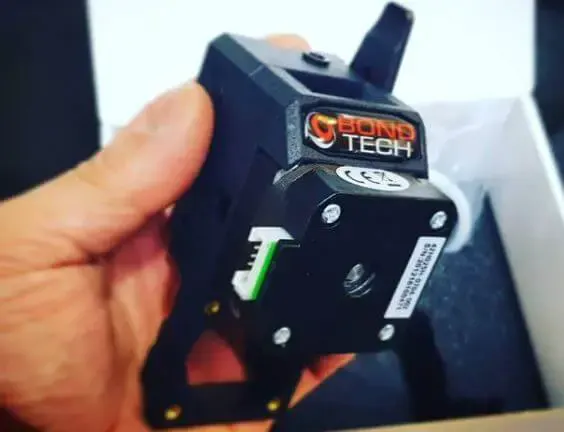 Heat blocks are pushed to keep their structure in the face of constant heating and cooling, which is why they are prone to failure. As a result, you should look for heat blocks that are of good quality and made to last.
3 – Heating barrel
The heating barrel is the part of the 3D printer extruder that holds the filament while it is heated.
It is the part of the extruder where heat is delivered, while the heat block is responsible for producing the required amount of heat. In a summary, the material will be waiting inside the heating barrel before you turn on your 3D printer.
It is responsible for the filament's contraction and expansion. So you have to consider the durability carefully.
4 – Build quality
Because an extruder is supposed to be stable, it is better to look for items that are known for their high build quality. Usually, higher-quality things will cost far more than lower-quality ones. Furthermore, avoiding having to replace an extruder too much will save you money in the long term.
Best Direct Drive Extruder: Frequently Asked Questions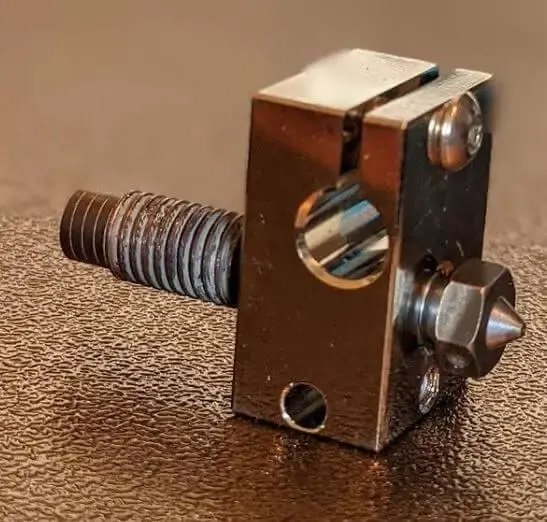 1 – Should I Upgrade To Direct Drive Extruder?
Changing to a direct drive extruder will enable you to print with more flexible materials while also improving overall extrusion.
In addition, with less space between the extruder and the nozzle, retraction is faster as well.
2 – What Is An Extruder?
The extruder is one of the most main elements of a 3D printer.
It is the part of the 3D printer that draws in, melts, and pushes out the filament. We also know it as a "fancy hot glue gun". In some cases, we use it to deposit a bonding agent in order to form powdered materials.
3 – Why Do We Need An All Metal Hot End?
The PTFE tube is not put all the way down in an all-metal hot end, but rather sits on top of the heat break.
This enables you to work with materials such as nylon, carbon fiber, and polycarbonate, which are hard and need high temperatures.
The main reason people upgrade to this type of hot end is for this reason.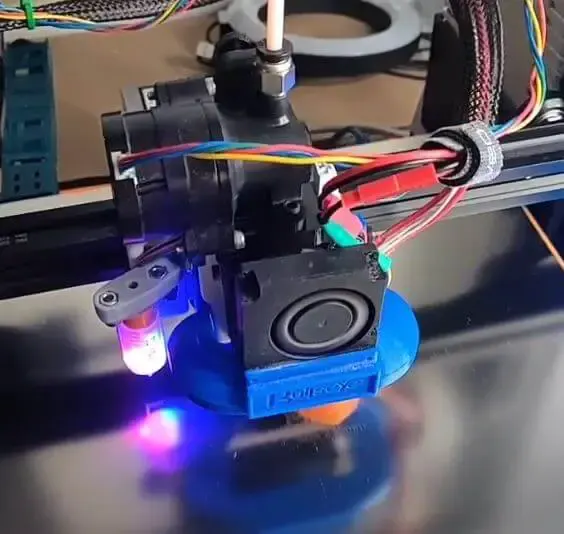 4 – Can I Change Printers With 3mm Extruders To A 1.75mm One?
Yes. 3D printers with 3mm nozzles used to dominate the market in the past.
However, 1.75mm filaments are the new trend these days, and so people make most extruders to suit them.
With a few simple tools, such as a 1.75mm hot end and TPFE tube, you can quickly convert a 3mm extruder to 1.75mm (there are many how-to YouTube tutorials that cover this topic).
5 – How Long Does A Nozzle Last?
There is no set time frame for changing or replacing your nozzle.
However, we suggest that you do so every 3 to 6 months.
Conclusion
In general, you have to think about your needs to choose the most suitable product. However, for flexible filament support, a direct drive is preferable. For the 3D printer, you choose, make sure the entire frame is sturdy. You will also have to print at a slower speed to allow for the engine to have to run along the carriage, which adds weight to the build and can cause it to shake excessively.
BIQU H2 DUAL GEAR is our first choice so far thanks to its compact design with high precision quality. However, this one is only suitable for small printers. So that if you are planning to open a business, GO BMG UNIVERSAL GEARED EXTRUDER is the better pick. You need to read the instructions carefully because some users said that it is very hard to set up at first.
To sum up, the best direct extruder totally depends on your needs and budget. Before you buy, spend some time reading comments on the Internet so that you will not get the wrong one.
Further Reading: