As 3D printing lithophanes has become popular these days, choosing the best filament for lithophanes is also an important thing for us to consider. Moreover, it can be quite tricky for newbies jumping into this. If you choose the wrong filament, you may ruin the whole project.
There are a lot of things to know when you enter this printing field, such as the best settings and some helpful tips to make the best results. In this article, we will help you to understand more about it.
Let's take a look!
The Top-Rated Filament For Lithophanes (Recommendations)
#1. 3D SOLUTECH REAL WHITE PLA – TOP PICK
#2. ANY CUBIC PLA – AMAZON'S CHOICE
#3. ESUN PLA PRO FILAMENT – BEST SELLER
#4. OVERTURE FILAMENT – AFFORDABLE PRICE
#5. HATCHBOX PLA – COMMON CHOICE
#6. SUNLU WHITE PETG 
---
Related:
What Is Lithophanes Printing?
Lithophanes are embossed photographs produced by a 3D printer.
At first glance, the print results do not appear to be very impressive but shine a light through one and you will be astounded by the details.
Light passes through the thin sections while being obstructed by the thick parts, which is how it works.
The changes in light bring out the image's intricacies in this way.
There are a lot of ways to turn your photo into a printable model, but they all work in essentially the same way.
They begin by guessing the photo's primary object and embossing it. They then add a lovely border and provide you the finished file in a 3D format such as STL.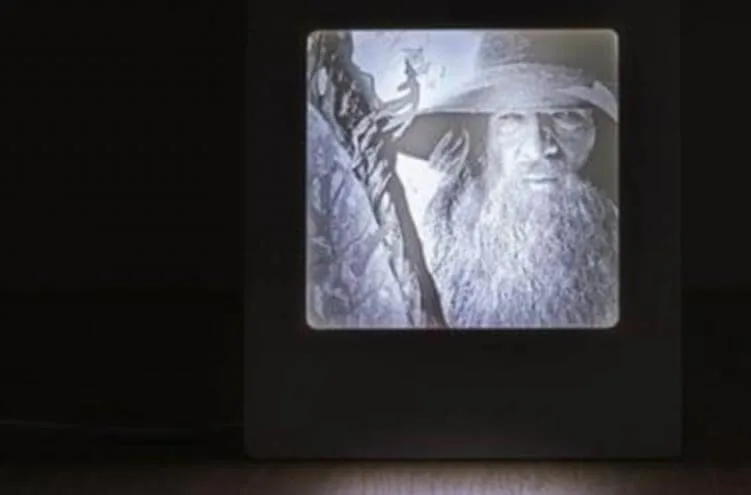 An example of printing lithophane (Source: All3dp)
Best Filament For Printing Lithophanes
You can use PETG and other materials to create 3D lithophanes.
However, based on our experience, PLA can be seen as the best for this.
This material can be used in almost every case.
The only case we suggest using another material is if you are planning to keep the lithophane outside or in a hot place.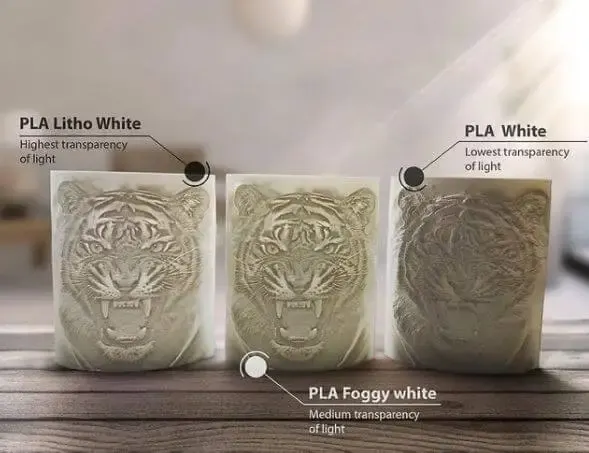 When we talk about quality, there are not many differences between the ones using PLA and using PETG.
The way you set up the two ones, however, is quite different.
When using PETG, you will have to adjust the parameters on your 3D printer a lot.
On the other hand, ABS is not a good choice for this.
Although it can withstand greater temperatures, the opacity of this substance is excessive.
Because thin ABS layers can block all of the lamp's light, you will not be able to see any image once you finish.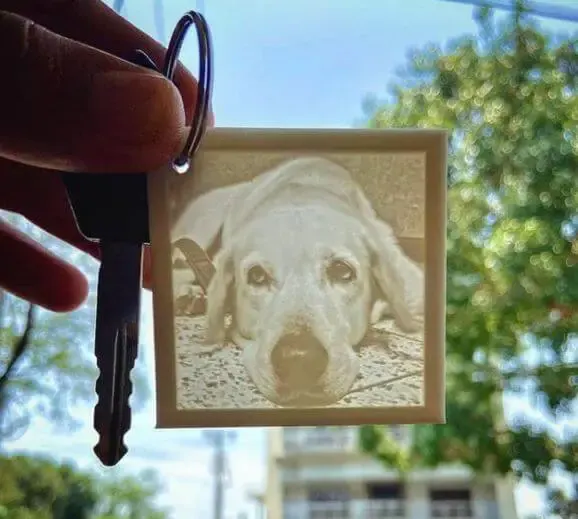 White is the ideal color filament for lithophane.
A white spool from the reliable manufacturers on the market will stand out.
However, you can print in any color you like. The fact that all of these products work in the same way for the most part.
As a result, you may wish to choose one that has previously earned a lot of good reviews from the other users. 
Moreover, it does not have to be only white. Just because light passes through white color better, therefore they are recommended.
Good Filaments For Lithophane Shortlist to Buy
*Ratings are from Amazon at the time of publication and can change
Best Filaments For Lithophanes: Which is great?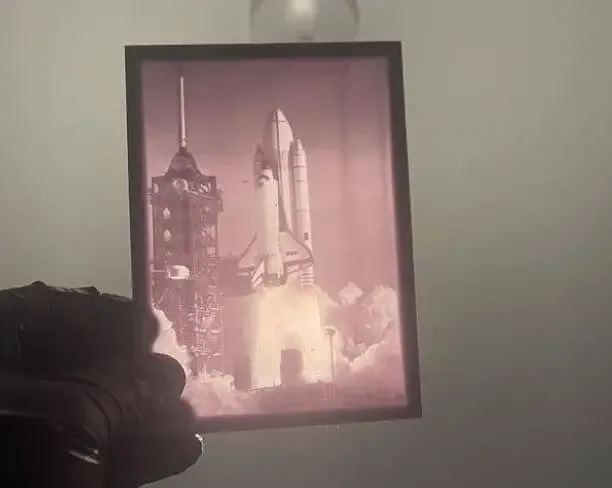 Key features:
Size: 1.75 mm
Item weight: 1 kg
Ultra smooth technology
Triple barrel color enriching technology
Country of origin: China
Glossy finish
This is our top pick when it comes to the best PLA filament for printing lithophanes.
You will know you have found a good filament when you open a box of PLA from Solutech, remove the packaging, load the spool into your printer, and print your first thing.
While it is on the spool and running evenly through the extruder, you can notice the quality in the smooth texture.
Besides, this product is also strong and not easy to break at all.
Therefore, it is ideal for beginners.
It is simple to use and consistently produces nice results. The texture is also quite smooth, as you can tell straight away when you open the package.
Thus, the texture is beautifully represented in the prints. The prints have a smooth, somewhat shiny appearance, which is exactly what you'd expect from a high-quality product.
There is no stringing or warping, and it smells great.
The finished items are also quite sturdy and can withstand a lot of pressure. They have a firm texture as well.
However, many users say that this color is not really pure white. It is a kind of off-white color.
Pros:
Anti stringing and warping
High compatibility
3D printing pen friendly
Good color
Nontoxic
 Cons:
Not food safe
Some products are easy to break
Many people faced bad finish
 Product unboxing and general comments:
Key features:
Size: 1.75 mm
Item weight: 1 kg
Net spool
Low shrinkage
Country of origin: China
Glossy finish
This is one of the best filament for lithophanes products on Amazon.
Many people have enjoyed the product's quality and features, as well as the flawless surface finish. Overall, this filament should be simple to work with.
Moreover, Any Cubic claims that their products are compatible with different types of machines, offer good toughness, and extremely low warping rate.
However, some users complain that the quality of these spools is unstable.
The real temperature range is lower than what the manufacturer told, too. Thus, you have to test a bit before using it for the whole project.
Pros:
Offer accuracy and consistency printing
Clog free and bubble free
Environmentally friendly and can be used with different types of printers
Cons:
Uneven size causes jam easily
Sometimes have strings at lower temperature ranges
Clog issues
Further, look and impressions about Any Cubic product: 
Key features:
Size: 1.75 mm
Item weight: 1 kg
Eco friendly
Low shrinkage rate
Stick well
Country of origin: China
Glossy finish
Products from Esun may have the cheapest princes on the market today. The adhesive qualities of eSUN PLA are very famous.
It also has a high level of opaqueness, color tone, and diversity. Moreover, it has been said that some spools of this filament have a variance of fewer than +/-.01 millimeters.
It does not get any better than that, does it?
Although calibrating the temperature and settings of your printer may take a few tries, you will be quite pleased after you have done so.
This PLA appears to perform best when the first layer is printed at 210°C and then the temperature is reduced to around 200–205°C.
Every now and again, an eSUN spool would fail and cause problems like clogging.
However, this is not typical, and you can just return it and receive a new spool if this occurs.
 Pros:
High strength
Non toxic
Low odor
Minimal warping and no print head clogging
Cons:
Some users say that the quality is not good like it was in the past
Clog issues
Bad customer service
 eSun PLA review: 
Key features:
Size: 1.75 mm
Item weight: 1 kg
Clog free and bubble-free
Less tangle and easy to use
Dimensional accuracy and consistency
Country of origin: USA
Glossy finish
This is another affordable and popular 1.75 mm filament producer with a lot of positive reviews.
A big pros is that each product of Overture PLA includes a 200 mm × 200 mm magnetic removable build surface with a grid sheet.
You can use it to control your print sizes and avoid bed adhesion issues.
Although it is way too small for today's 3D printer standards, it is still a useful thing that could come in help when working with more demanding materials like ABS or Nylon.
Furthermore, each one comes with some handy small indicators that inform you how much material is left and how much it weighs.
They also have a "PLA Plus," which means that their products are 5 times harder than the other ones on the market. 
Pros:
Offer accuracy and consistency when printing
Affordable price
Eco friendly
Come with a grid sheet build surface
Cons:
Low density sometimes
The color is off white and yellow, not pure white
The spool is tightly overlapped some printers find it hard to pull it
 Printing Overture PLA with Ender3 Pro Printer:
Key features:
Size: 1.75 mm
Item weight: 1 kg
A mix of plant-based materials and polymers
No odor
No heating bed required
Country of origin: USA
Glossy finish
This is one of Amazon's most popular products.
They bring high-quality filament ones at a good price, making it one of the best filament for lithophanes.
This product is made up of a mix of natural ingredients, and it has a number of good qualities.
The 0.05 mm tolerance of the product is consistent, the colors are nice, it is flexible yet strong for a PLA, and the detail resolution is so amazing. Besides, it smells like a sweet pancake.
The spool comes in a recyclable paper box, sealed in a plastic bag. The bag cannot be resealed.
However, to keep your spools from the hard environment, you may need a dry box or a special container. 
Pros:
Come with an air sealed with a desiccant bag
No odor and minimal warping
Made from both natural materials and polymers giving a high toughness
Sweet smell
Nice color
Cons:
Poor layer adhesion
Quite brittle
Work well with smaller prints but have issues with large prints
 Hatchbox PLA review:
Key features:
Size: 1.75 mm
Item weight: 1 kg
Easy to use
No clogging
High hardness
Country of origin: China
Glossy finish
Sunlu's regular PETG comes in a variety of colors and variations, including Silk, Marble, and SPLA, a special PLA and PETG mix.
It is said to print with good detail, high adhesion, nice color, and little to no warping, according to reviewers from all around the internet.
To avoid moisture, those products are carefully wrapped in vacuum sealed containers with desiccant packets.
The spools are very carefully wound, giving you durable prints, according to the experts.
You can buy those ones with a diameter of 1.75 mm and a standard tolerance of 0.02 mm. Moreover, spools weigh 1 kg each, and bundles of up to 5 kgs are also available in case you need them.
Pros:
Come with a vacuumed sealed bag
Good customer service
Shiny finish
Cons:
Still have some stringing
High temperature needed
Clog sometimes
Poor adhesion
Try out a Sunlu PETG: 
Key features:
Size: 2.85 mm
Item weight: 1 kg
Easy to use
Durable strength
No need for heating bead
Country of origin: USA
Glossy finish
You will receive the spool in a sturdy cardboard box that could be recycled.
To protect it from humidity, it was placed in a plastic bag with a silica desiccant pouch. Because the bag could be resealed, the filament could be safely kept while not in use.
We had some difficulty getting prints to attach to the bed because this material likes to deform.
A small amount of gluestick seems to assist, but it wasn't always ideal.
The prints have a very smooth and shiny finish. And the color is a deep, brilliant white, showing that the products are of good quality.
However, PETG is quite opaque, so it is very hard for light to go through it.
Pros:
Less jamming
Come with a resealable storage bag
Have the 1-year limited warranty
Sturdy quality
Nice color
Cons:
Big diameter that may not fit all printers
High-temperature hot end needed
Stringing and layer adhesion issues sometimes
Need more detail, watch this video: 
Slicing The Pictures
Besides choosing the best filament for lithophanes, it is also important that you choose the position to print the 3D model in.
You can print it horizontally or vertically. The layer width might be less than the nozzle width if you choose the first option, which increases the image resolution.
We suggest that you use a layer width of 0.1 mm.
The downside of printing a lithophane vertically is that it takes a long time to print.
Adjusting the jerk and speed parameters can help, but for now, let's focus on obtaining a great print rather than making it fast.
If you want to print horizontally for some reason, you may have to change the "thinnest layer" setting to the layer width you want.
However, the smallest details in your photo may fade due to the lower resolution.
Therefore, we do not advise printing it this way.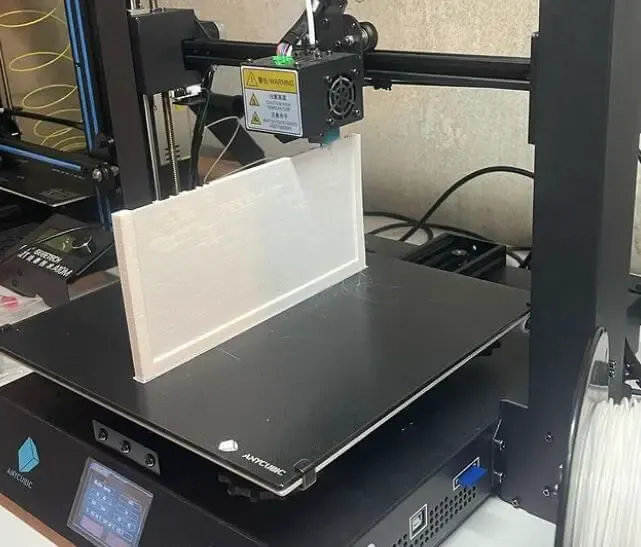 Another important factor in this project is speed. To keep your image at a high resolution, you will need to slow it down to 30 – 40 mm/s. Small changes in the perimeter of your object can result in ugly marks. Thus, start carefully and gradually increase speed as you feel good enough.
There are only two differences between the two prints, but they have a significant impact on the final result.
The layer height was dropped from 0.3mm to 0.2mm, and the movement speed was reduced from 45mm/s to 30mm/s.
In both situations, we used a common white PLA filament that we had on hand (properly preserved and in good condition).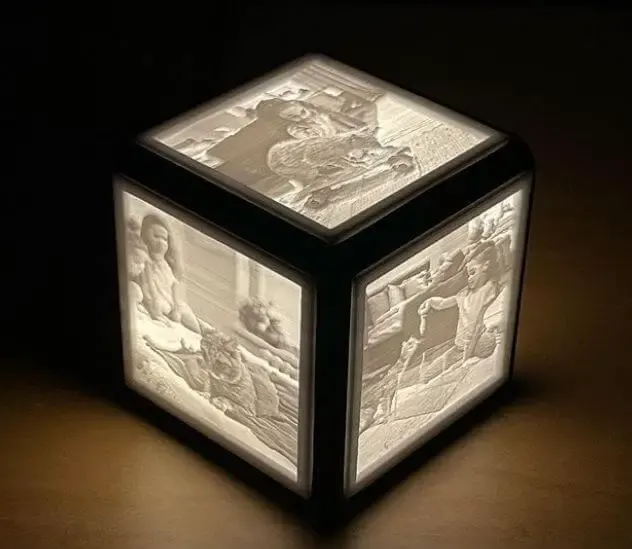 Although the increase in printing time was noticeable, lithophanes do not take a lot of filament or time in the big picture of 3D printing.
The percentage of infill in your print must be 100%. The slicer will not fill the thicker spaces if this is not done, and the "darker areas" effect will not appear.
Best Filaments to Print Lithophanes?
We have tested many ways. Below are our suggested settings to get the best result:
Set the cooling fan to somewhere between 70 and 80%.
There is no need for a heated bed or additional support. All you have to do is using the standard heated bed setting.
The thickness of the layer should be 0.2mm. The smaller the number, the better. We used a height of 0.15 mm.
Set the infill percentage to 100%.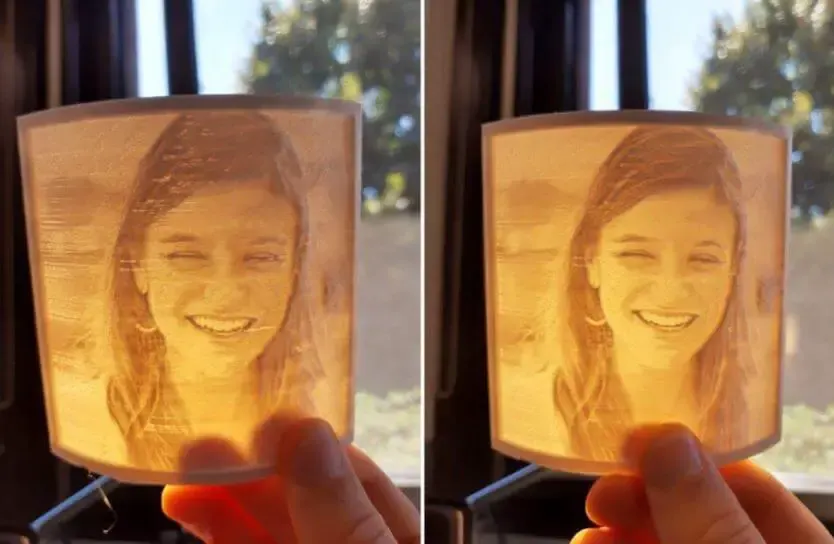 Different settings affect the picture's quality (Source: 3dsolved)
 The perimeter and outline shell comes in different ranges.
The average is around 5, but you can go as high as 10 or even higher.
Even a single perimeter shell will work well. As a result, you do not have to worry much about it.
Set the 'Combing Mode' in Cura to 'All' to make sure that the nozzle does not leave any residue on the outside of the perimeter when moving.
Check your setting carefully before making.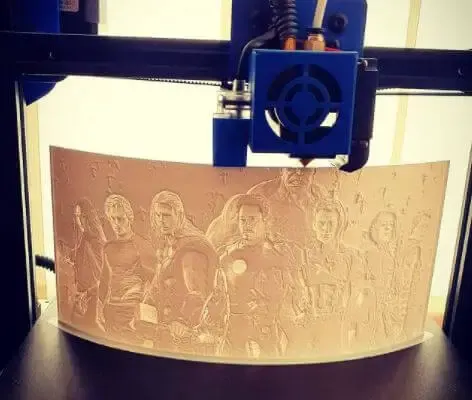 You should print the models vertically because it makes better results than laying them flat.
It tunes the processing of your image finer, allowing you to see more shades of gray. A thickness of 3mm is enough.
With a larger thickness, however, it will take longer. Keep in mind that the thicker your picture is, the brighter the light behind it must be to clearly reveal the image.
A border is a wonderful concept to utilize simply to provide contrast to your image.
For your border, 3mm is a decent size. When printing, you can use a raft to protect your corners from warping and provide stability.
Best Filament For Lithophanes: Frequently Asked Questions
1.  What Is The Resolution?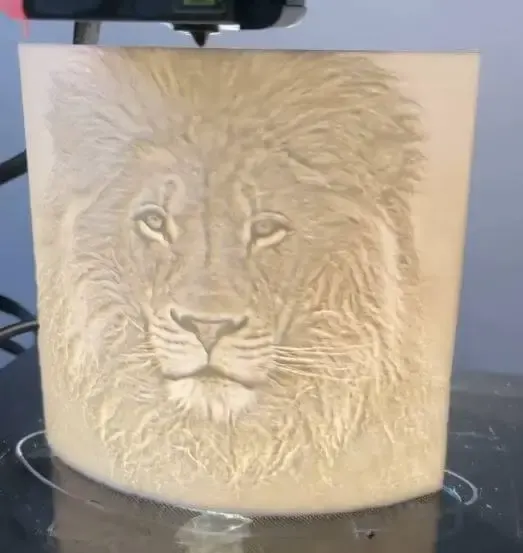 It is the distance between pixels on the printed side.
For example, a value of 0.3 mm/pixel means that each unique lithophane thickness is 0.3 mm apart in the x and y axes.
The key "sizing" dimension is the base length, which decides the entire length of the base (including the frame).
2. Can I Print A Lithophane With An SLA Printer?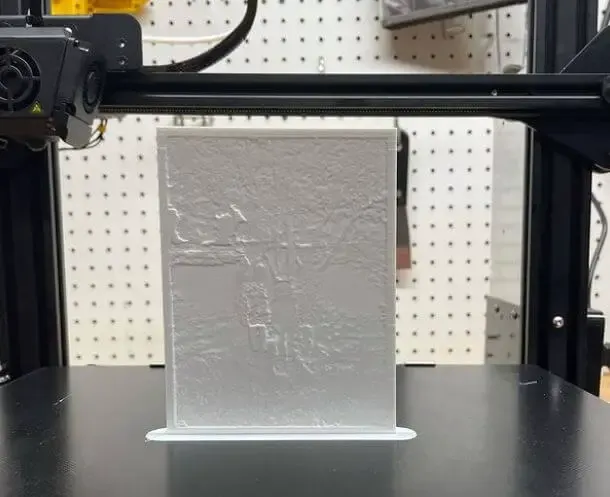 Yes, you can. It can be printed with a resin based SLA printer with no problems.
In fact, when compared to an FDM type, the level of detail and precision that can be attained with SLA is far higher.
Despite this, this kind of photo is rarely made with this technology due to the quite limited build surface of these machines.
Watch this video to see how to use an SLA printer to make your photo:
3. Is There Any Difference Between PLA and PETG?
If you are looking for a material with good physical qualities, PETG is a better choice than PLA.
PETG, unlike PLA, is resistant to water, chemicals, and fatigue.
It is also more durable and less stiff than the other.
In general, people see PETG as a mix of ABS and PLA.
 4. Is PLA stronger than PETG?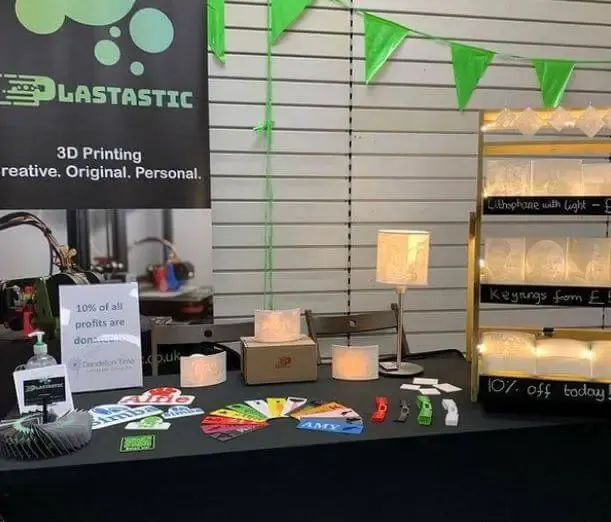 No, PETG is actually the stronger one when talking about tensile strength.
It is more durable, impact-resistant, and flexible than PLA, making it an ideal material to use in 3D printing.
Moreover, it outperforms in terms of heat and UV resistance.
Therefore, you can use it for outdoor purposes.
5. How Do I Store My Filament Spools Properly?
Just simply put them into a zip lock bag, box, or any other containers that will not let air in.
Moreover, you can keep your filament dry with silica gel, this is a neat and easy way that many people use.
The key thing is keeping them away from coming into touch with water in the air.
Conclusion
To sum up, all the decisions are up to you and depend on what kind of lithophane you want to make, also its colors and sizes. However, PLA is still suggested as the best material for this kind of printing.
So, if you are still confused, we recommend picking the 3D SOLUTECH REAL WHITE PLA since it is our favorite so far. Its quality will give you the best printing experience, moreover, it does not cause odor or warping issues. AMAZON BASICS PETG is also a good try if you want to have a PETG picture. Amazon Basics has recently gained a lot of positive comments for its high-quality filaments. Besides, it also offers you 1 year of product warranty.
We hope now you can choose the best filament for lithophanes after reading our article. 
Further Reading:
Tags:  petg pctg filaments, filaments filament samples, read speed and option, cr 10 3d printer.