In addition to the printer, the filament you use is one of the most significant considerations. Getting the best filament for Ender 3 printer makes your print smooth and durable.
Hence, you can churn anything out whether they are working models or toys.
In comparison, poor quality fillings are more likely to be stuck during processing.
It also results in excessive strings that lengthen the cleanup period after printing.
 In order to identify the right type for different uses, we checked and reviewed a wide variety of types of varying prices. We will help to find the right type that is perfect for what you need.
The Top-Rated Filament For Ender 3 (Recommendations)
#1. HATCHBOX PLA  – TOP PICK PLA
#2. HATCHBOX ABS  – BEST ABS FILAMENT FOR ENDER 3
#3. NOVAMAKER PETG – BEST PETG
#4. PRILINE TPU  – BEST TPU
#5. SUNLU SILK RAINBOW PLA+ – EXCELLENT COLOR
---
Related: 
What Should You Look For In A Good Filament For Ender 3 3D Printer?
About E3 3D Printer
The Creality Ender 3 is one of the top versatility under $200 devices.
Although it is a budget printer, its capabilities are similar to many high-end ones. One advantage is its flexibility in using multiple material choices.
In addition, this machine uses such basic elements as any other 3D printer, and we will take a look at them one by one.
Accordingly, you can understand how the output of different filaments is influenced by each element.
Ender 3's hot end can go up to 280oC and is very accurate.
Unfortunately, because of the use of PTFE tubes and the origin of materials it is made of, it is limited to 240o However, those temperatures are adequate, like PLA, ABS, TPU, and even PETG to print traditional plastics.
The inside heated bed of Ender 3 can be tempered up to 110o Thanks to this you can use materials such as ABS.
The 0.4 mm regular brass nozzle used will give you better results in printing with a broad variety of filaments.
However, you can not use abrasive materials, since they can eat easily in the brass.
The picture below shows how you should set your nozzle at the right height.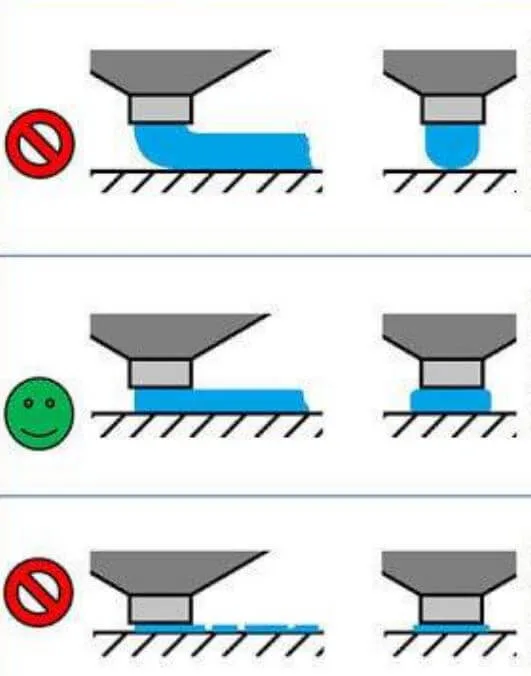 What Kinds Of Filament For E3 Are Not Recommended?
Although Ender 3 accepts many materials, first, we will work through the types that can not be used.
The appropriate ones will be mentioned later.
This compound demands a temperature of above 250oC, and this temperature can not be sustained by stock setup. Besides that, handling of materials and warping are also problems with the 3D printing of nylon.
The PEEK needs a high print temperature of up to 350 to 400o Thus, this is not cost-effective and hard to print.
Metal and Glow-in-the-dark:
These two types of products are abrasive. Also, the extruder system may be worn out in many instances.
Wood is a filament that is also often abrasive.
The brass pin is starting to rust off. In addition, a larger nozzle than the normal 0.4 mm is usually needed.
If you want to use these kinds of materials, we suggest you do some upgrades to your Ender 3.
However, since it is just a low budget printer, you should buy a more professional one to do these tasks. It will forthwith guarantee your results.
So, Which Materials You Can Use?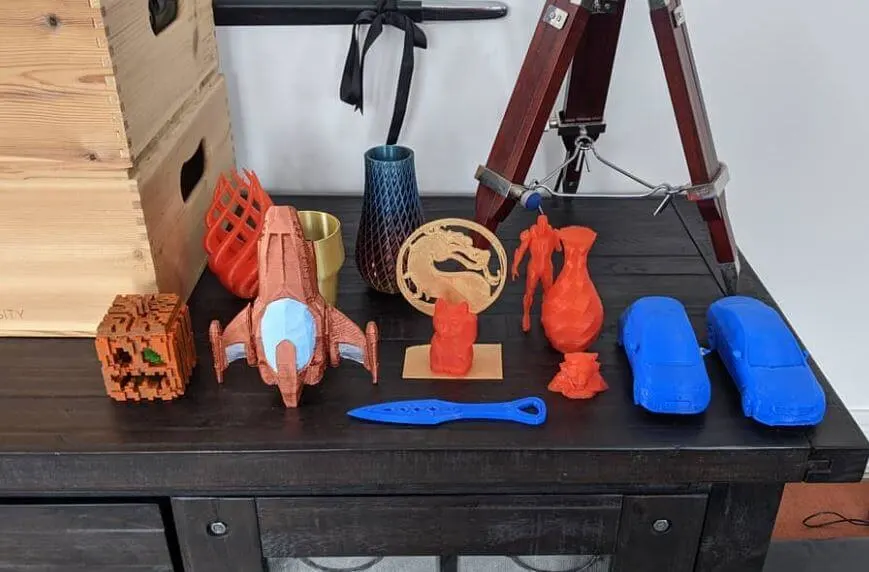 PLA filament (Polylactic Acid):
This is one of the most well-known materials in 3D printing nowadays.
Generally, experts rate this as the best filament for Ender 3 so far.
Because it can be printed at a reduced temp and does not need a heated bed, many extrusion-based 3D printers set it as default content.
Besides, it is easy to process as well as relatively cheap that can be used for a range of applications.
PLA is also an environmentally friendly and the strongest filament. Since it is renewable and biodegradable from crops such as sugar cane.
ABS filament (Acrylonitrile Butadiene Styrene):
ABS remains an amazing material thanks to its affordability and mechanical prosperities.
It is known for its toughness, allowing users to print sturdy sections that hold for extra use and wear.
Moreover, having a high glass transition temperature ensures it will last even higher before deforming.
Therefore, for external or in high temperatures uses, ABS is a perfect option.
However, it appears to smell a little. So please operate in a good ventilation space.
PETG filament (Glycol Modified Polyethylene Terephthalate):
It is often used for the manufacture of food bottles.
Because this is a semi-rigid substance with high impact resistance, but its surface is a little soft, making it prone to use.
Besides, the material also benefits from a high thermal conductivity which enables the plastic to cool down with almost minimal warping efficiently.
TPU filament (Thermoplastic Polyurethane):
TPU is a versatile polycarbonate resistant to abrasion.
It is used widely in a number of manufacturing processes.
Although in such mixtures it can eventually be completely soft, TPU filament offers many advantages and features.
The 3D printed TPU modules are sturdy and can stand up to 80o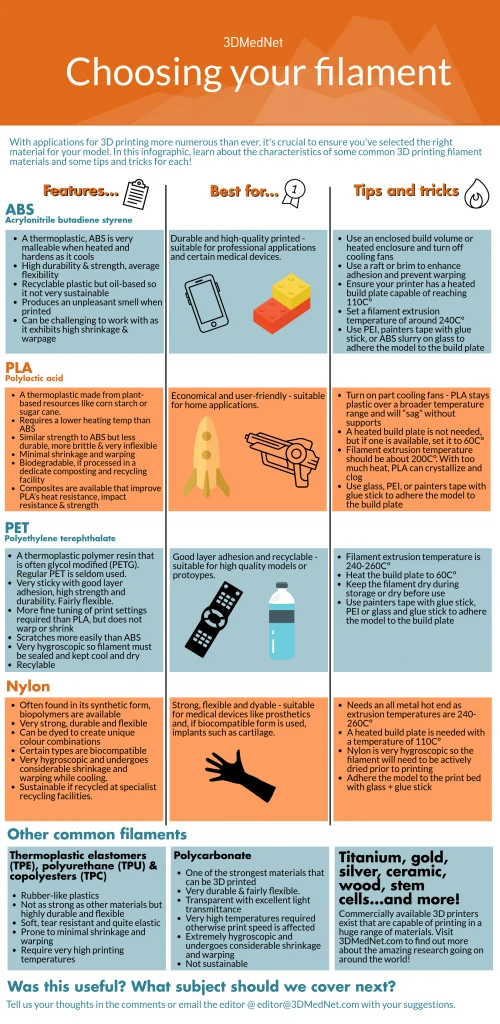 Best 3d Printer For Cosplay Armor Shortlist
*Ratings are from Amazon at the time of publication and can change
The Best 3d Printer For Cosplay Armor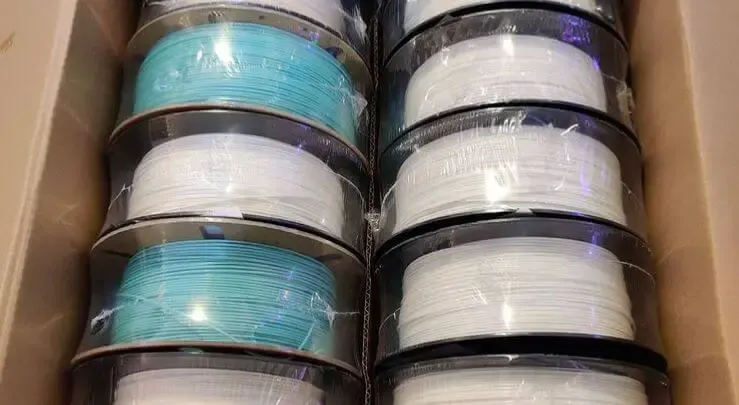 Type: Spool
Recommended extrusion temperature: 180 – 220oC
Spool diameter: 7.88", spool width: 2.69", spool hub hole diameter: 2.20"
 Hatchbox is today's most famous filament brand. Thus, the surface finish of Hatchbox PLA is especially impressive to us.
It comes in different colors, but we suggest using white color.
This product is perfect with regard to architectural models or other high detail designs.
It also provides more definite lines than other types of PLA.
Consequently, all our prints are good, with a pleasant gloss and uniform color, plus a very smooth finish.
It is everything you might want in the best flexible filament for Ender 3.
It is solid, smoothly flowing, and has almost no supporting or stringing problems.
Furthermore, it has a great deal of tolerance, vibrant shades, and a fluid yet solid. It also smells as sweet as a pancake.
And the resolution in detail is incredible.
Pros:
Perfect output
No clog printing
Moisture resistant absorption
Cons:
Slight stinging may appear in final prints
Sometimes has a little bend at the edges
Check out the Hatchbox PLA review from Fugatech:  Hatchbox PLA Filament Review – YouTube
#2. HATCHBOX ABS  – BEST ABS FILAMENT FOR E3
Type: Spool
Recommended extrusion temperature: 210 – 240oC
Spool diameter: 7.88", spool width: 2.69", spool hub hole diameter: 2.20"
 As well as all the other Hatchbox products, this ABS one offers high value at a low cost.
The Hatchbox ABS is a great choice of filament for Ender 3 if you do not want to choose between time and good finish.
For fast printing, you can use the quick setting and a medium solid fill but its quality is still compromised.
However, if you are careful and demand high-quality parts, you can adjust the temperature.
But this adjustment will slow down the pace.
On the other side, the only downside confronting the Hatchbox ABS users is that it has a heavy glossy color.
You need a light-colored material for your next task, but black pigments may show on the surface after printing.
But you can quickly tackle this small problem with a careful schedule of work.
Pros:
Great price
Free of clogging, jamming, or stringing
Handle moisture well
Adheres to baseplate
Cons:
Quality somehow depends on the temperature
Strong glossy finish
See how to use Hatchbox ABS filament for Ender 3 V2: How to Print ABS on the Ender 3 v2! it's Easy! – YouTube
Type: Spool
Recommended extrusion temperature: 230 – 260oC
Spool diameter: 7.88", spool width: 2.64", spool hub hole diameter: 2.10"
 If you are finding your best filament for Ender 3 that combines the advantages of ABS and PLA, Novamaker PETG ensures a fantastic printing experience.
You can rely on it for high quality and tough tasks.
Since it is available in translucent, the results are super hard, backed by their incredible but at the same time soft layer bonding.
For that, giving you an impressive versatility.
As this type has less shrink and warping, the finishes are flawless.
It runs very smoothly and does not cause any twisted or stuck during the printing process.
Moreover, it is very affordable and cost-effective.
Pros:
Excellent dimensional precision to maintain the originality
Run stable and smooth
Excellent layer adherence and attachment to ensure longevity
Cons:
High temperature required
Can cause sticky and stringing issues
Brass nozzle head is not recommended because of high temperature operated
Type: Spool
Recommended extrusion temperature: 190 – 210oC
Base plate temperature: 50cC
Spool diameter: 7.87", spool width: 2.83", spool hub hole diameter: 2.20"
 Priline TPU Filament is one of the best sellers of TPU filament for Ender 3 on Amazon.
This material is easy to print and does not run out like other TPU products.
Because it is slightly stronger so that it does not quickly create annoying pop-outs.
It is not only abrasion resistant but also has proven effective even at low temperatures.
Furthermore, this TPU also has weak bridging capabilities, contributing to multiple blobs and stringing.
In order to print the versatile product in good condition, you must obtain the right spot of temperature, pressure, and retraction speed.
Pros:
Cheap
Great durability
Offers flexible and bendable results
Cons:
The diameter is undersized
Hard to handle during printing
The finish does not get polished and smooth surface
 Check out the Priline TPU review from Fugatech:  Priline TPU Review – YouTube
Type: Spool
Recommended extrusion temperature: 200 – 230oC
Base plate temperature: 0 – 80cC
Spool diameter: 8", spool width: 2.5", spool hub hole diameter: 2.20"
SunLu Silk Rainbow can be considered as the leader of rainbow PLA filament on the 3D printing market.
The color transition appears after each 15 – 18 meters. And the change of colors is random.
Therefore, the ombre multicolors enhance the look and the uniqueness of your print.
Besides, according to the manufacturer, the Silk PLA+ í brighter than the original PLA.
No more polishing is required, high gloss printing ensures a nicer finish, which has an appearance identical to metal.
Due to its improvement in manufacturing, SunLu Silk Rainbow PLA ensures a smooth printing experience.
Consequently, it enhances printing efficiency with less warping and stringing issues.
Pros:
Easy to use
Shiny multicolor finish
Do not cause odor, bubbles, and clogging
Cons:
Takes a long time to get the color change
Easy to twist or loop on the spool
We found a tryout video for you: 3d Print: Silk Rainbow Multicolor PLA Filament Tryout – YouTube
Type: Spool
Recommended extrusion temperature: 190 – 220oC
Base plate temperature: 0 – 60cC
 If you want to create a wood model but your Ender 3 does not recommend using wood content, you can pick the Suntop PLA Wood Spool.
Being guaranteed with no air bubble, no wrapping and clogging, Suntop product ensures a good PLA filament for Ender 3 with a high-quality finish.
It is suitable for complicated 3D works with high sturdy requirements and ensures the model is not delicate.
Furthermore, it contains real wood fibers makes the printed models are more textured.
You will get a product that has the appearance, feel, and smell like a wood piece.
Reported for the Amazon users, we can see that this is one of the best PLA filament for not only the Ender 3 but also Ender 3 Pro.
Pros:
High-quality PLA filament contains real wood fibers
High accuracy
Little to no odor
Cons:
Requires post-processing
Inconsistent diameter
Complained to bring clog sometimes
Type: Spool
Recommended extrusion temperature: 230 – 250oC
Base plate temperature: 50 – 75cC
 Stronghero3D's products in general, and its PETG filament in particular, are the cheapest on the market we have reviewed.
Although offering a lower price, it delivers the same quality as other high price products.
It is easy to print and brings along a tough finish. Surprisingly, it comes with perfect vibrant hues that even some expensive products find hard to reach.
 Fairly speaking, the bridging test has a few strings, but just a few.
Any bumps on the edges of stuff that are presumably not retracted enough.
Moreover, the inconsistency of diameter is also reported.
But we think it still looks fine overall if we set up the material right.
Pros:
Cheap
Perfect color shades
Easy to process
Strong characteristic
Cons:
Unstable spool diameter
Can lead to bad stringing, spongy, and easily broken.
Choosing Your Best Filament For Ender 3: Buyer's Guide For E3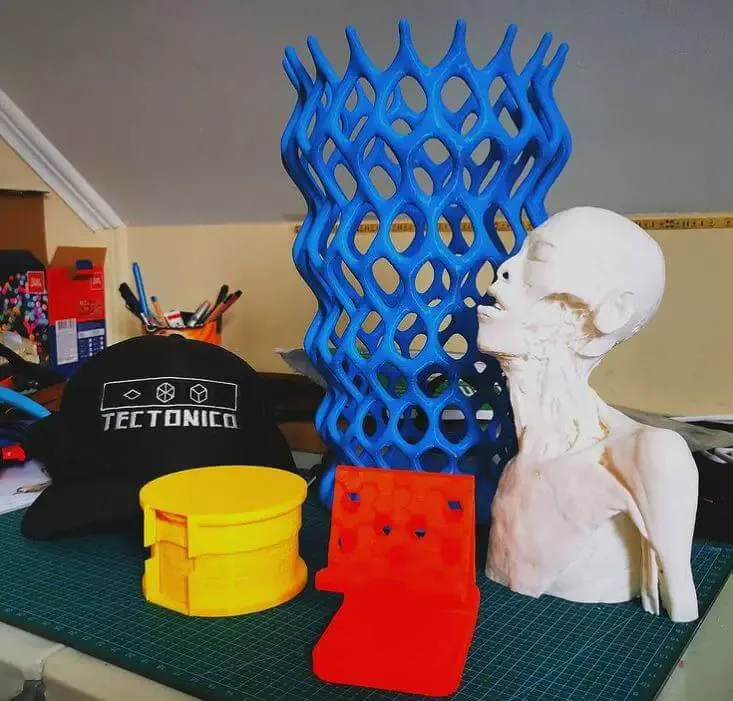 (cre: 3dmednet)
Firstly
You need to understand what is the right size of filament diameter of your 3D printer before you start the quest. The most popular diameters are from 1.75 mm to 3 mm. Each printer model has one diameter so that before buying, check the details carefully. Evidently, the Creality Ender 3 has a 1.75 mm feeding head.
Secondly
Pick the right type of filament. There is a variety of products on the market. While Ender 3 prefers PLA, ABS, PETG, TPU, you should take a look at our recommended list. It also depends on your purpose, the finish you want to get on your model.
Thirdly
Check the filament grade. On the market, one material can be produced in different grades. For example, PA-747 for ABS, 2003D and 4043D for PLA, etc. These are considered as standard grades of common filaments for 3D printing. For beginners, you should choose the filaments with named grades.
Fourthly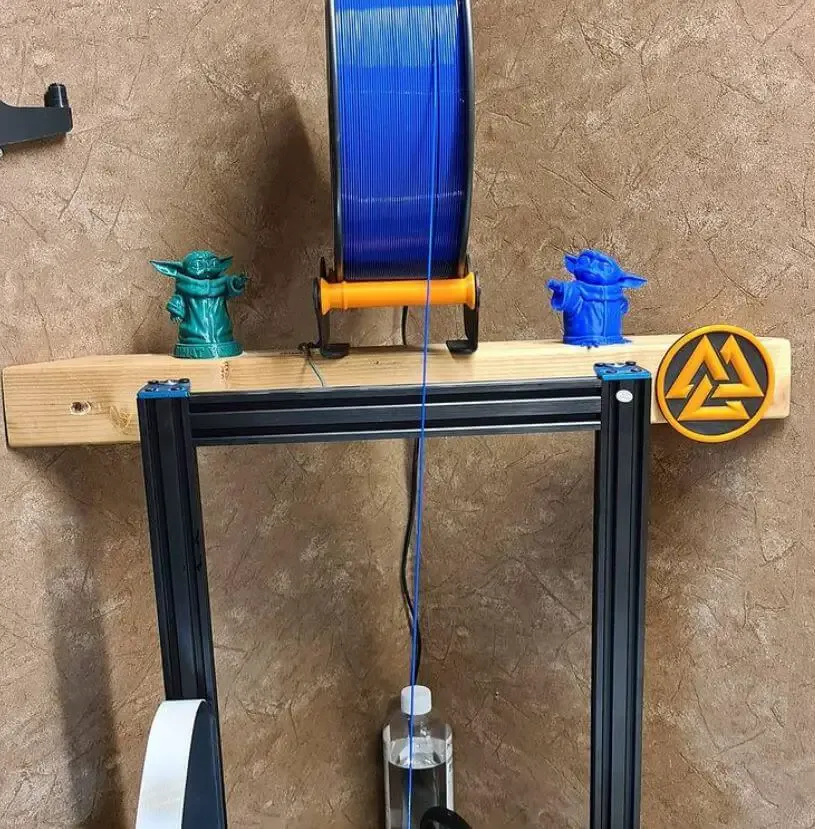 (Cre: simplify3d)
Do not forget the printing conditions. If the printer works in a ventilated space or air temperature is comparatively poor in winter, such as in the basement of in the store, PLA is preferable.
There is a lot more chance of breaking or bending ABS objects than PLA ones in a cold environment.
Fifthly
There are different color selections from type to type.
Original or translucent shades tend to be cheaper since there is no dye cost involved. It is also important to bear in mind that by using colored filaments, you can calibrate the settings more quickly than transparently.
Sixthly
There are various packaging. Manufactures can make it in spools or coils. Spools are easier to use but have a weight boost that impacts delivery and overall expenditures. Coils for smaller amounts of plastic ones are inexpensive and more practical.
Lastly
Remember that you probably need to calibrate your Ender 3 printer any time you change materials by using different materials from various suppliers.      
Frequently Asked Questions About The Best Filaments For Ender 3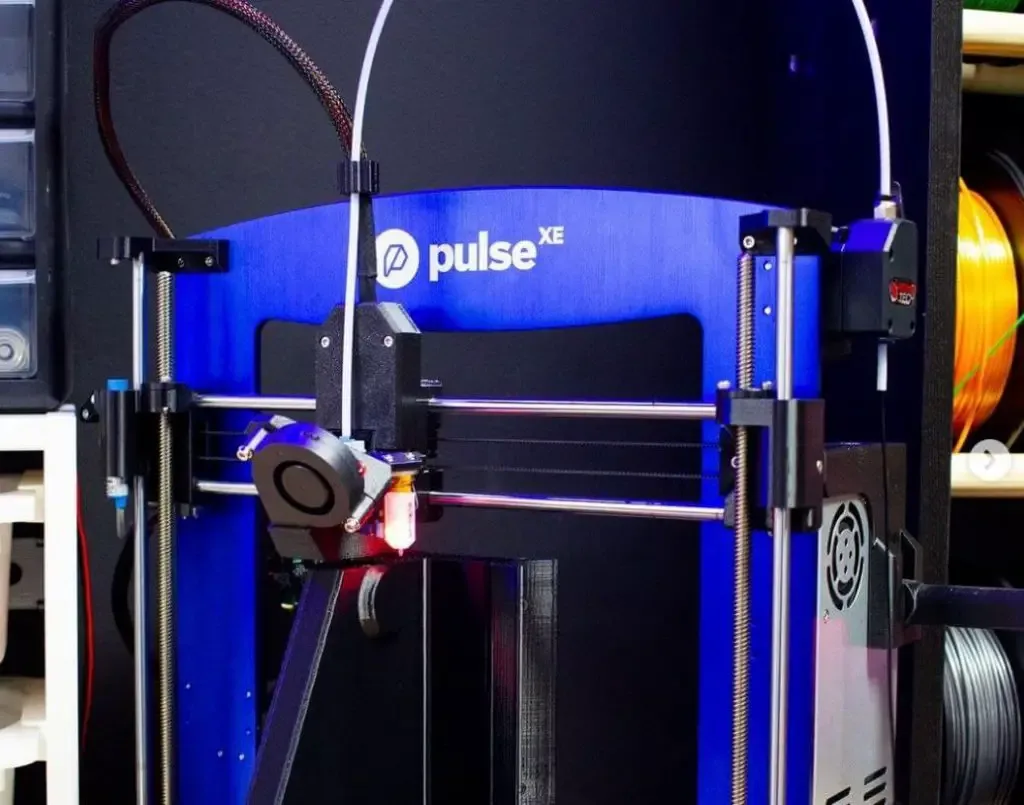 (Cre: Wikipedia)
1. How Can I Purge The E3's Filaments?
Ender 3 includes some functions to purge the old spool. To open the Move Axis settings menu, press the control button and scroll to Move Axis as 1 mm as Nozzle à 15 to 20.
After that, the extruder begins to feed the substance into the nozzle, purging the old filament and loading through the new filament.
2. Is There A Filament Sensor For Ender 3?
The Ender 3 has no filament detection, although mighty. However, you can install two types of filament sensor for your Ender 3. There are two options of sensors: the optical and the traditional mechanical limit switch. Check out the below table to find your suitable detection:
 
Optical Limit Switch
Traditional Mechanical Limit Switch
Advantages
– Inexpensive

– When the sensor moves, they do not inflict wear on the material

– 

– Inexpensive

– Reliable

Disadvantages
– Less reliable

– Can not work with clear materials

– Hard to load

– Only be fed through one way

– Can cause a minor increase in wear and friction
3. Can I Let My E3 Printing or Working Overnight?
We do not recommend to leave your 3D printing unattended, because it is not secure.
A lot of users have reported that it can cause the fire to break out and dispersing across the room. Nevertheless, there are ways to make it safer. For example, you can use a full metal enclosure or install a safety firmware.
4. How Long Do My PLA filament brands Models Last?
For a PLA object to appear cracks and exhibit signs of deterioration, it may take about 6 months.
Additionally, that period of time will depend on the conditions.
Hence, PLA can take a very long time to degrade under room pressure and temperature. It can last up to 15 years in a normal room.
5. How Does Creality Ender 3 And Ender 3 Pro Differ?
The key difference between the Creality Ender 3 and Ender 3 Pro is its base plate.
The Ender 3 Pro is provided with an upgrade base plate. It is sturdier and avoids sticking to the models. On contrary, the base plate of Ender 3 is a little difficult to operate.  
Conclusion
For Ender 3, every option we mentioned above will definitely fit well.
We will definitely include HATCHBOX PLA as our top suggestion if you are searching for a decent 3D material at a low price. Furthermore, it is made of a mixture of plant-based materials and polymers that provides an environmentally friendly finish.
Choosing the best filament for Ender 3  can be incredibly frustrating and tedious for all these various kinds of 3D printing. However, you can easily select which material you want to print, based on the type of result you want to create. If you know the properties, benefits, and drawbacks of each, it is simpler to choose.
Further Reading: 
Tags: best filament for 3d printing, best filament for outdoor use, best filament for e3 v2 neo, best filament for 3d printer brands, prusament petg,  abs (or),  specifications print temperature,  filament abs pla,  petg abs tpu,  printing filament abs,  pla petg abs, colors, reasons, hips, pva, guide, brands, extruder, abrasive, properties, overture