Choosing your best Creality 3D printer is not too difficult as it was many years ago.
3D printers used to be hulking and costly devices that reserved for factories and well-heeled businesses just a decade ago.
Except for the small circles of professionals who designed and used them, they were mostly unknown.
However, these amazing devices have become popular and affordable items for use by designers, developers, hobbyists, and even curious users.
If you are finding your suitable 3D printer, it is important to understand how they vary so you can choose the right one.
They are available in a range of designs. You can use these printers for a specific audience or type of printing.
Are you getting ready to take the plunge?
Let's take a look at our article.
The Top-Rated Creality Printer (Recommendations)
#1. CREALITY ENDER 3– TOP PICK
#2. CREALITY ENDER 3 V2 – UPGRADED VERSION
#3. CREALITY CR-6 SE – PROFESSIONAL CHOICE
#4. CREALITY CR-10 – LARGE PRINTING SIZE PICK
#5. CREALITY LD-002H RESIN – FULLY ENCLOSED AND RESIN PRINTER OPTION
---
Best Creality 3D Printer: What You Need To Know?
1. Types of 3D machine
Stereolithography (SLA), selective laser sintering (SLS), and fused deposition modeling (FDM) are the three most popular types of 3D printers for plastic pieces.
SLA and SLS are two advanced 3D printing technologies, putting these strong and affordable industrial fabrication tools in the hands of professionals all over the world.
– Stereolithography (SLA):
This technology was developed in the 1980s and is still one of the most common technologies among professionals, was the world's first 3D printing method.
In a method known as photopolymerization, SLA 3D printers use a laser to cure liquid resin into hardened plastic.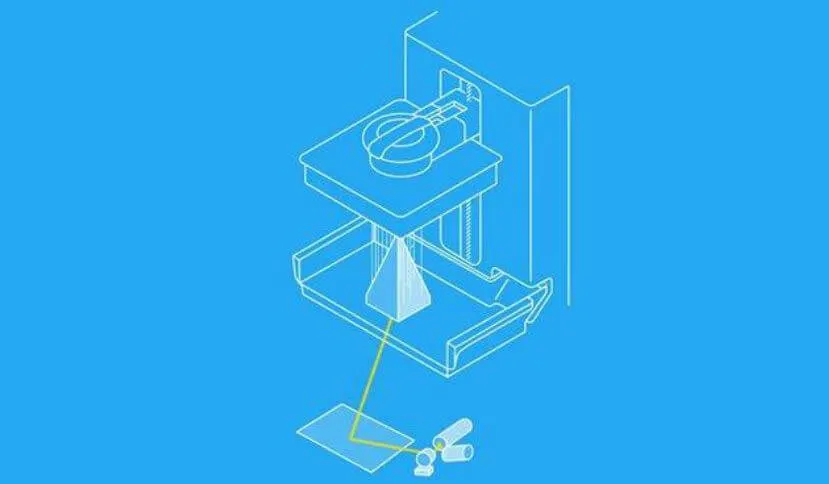 Source: Formlabs.Com
SLA resin 3D printers have grown in popularity due to their ability to manufacture high accuracy, isotropic, and watertight prototypes and parts in a variety of advanced materials with fine features and a smooth surface finish in a variety of advanced materials.
The optical, mechanical, and thermal properties of SLA resin formulations are comparable to those of ordinary, engineering, and industrial thermoplastics.
SLA is a great application for:
Prototyping for features
Modeling concept
Short-run manufacturing
Applications in dental and jewelry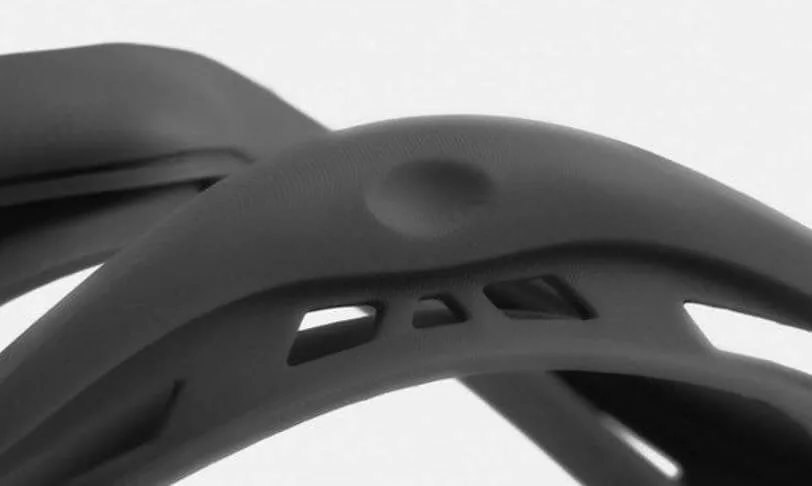 SLA printed objects has sharp edges, smooth finish, and less visible layer lines (Source: Formlabs.com)
– Selective laser sintering (SLS):
SLS sinters small particles of polymer powder into a rigid structure using a high-power laser.
The component is supported during printing by the unfused powder.
This removes the need for dedicated support structures.
SLS is suitable for complex geometries including interior elements undercuts, thin walls, and negative features.
SLS printed components have outstanding mechanical properties, with strength comparable to that of injection molded parts.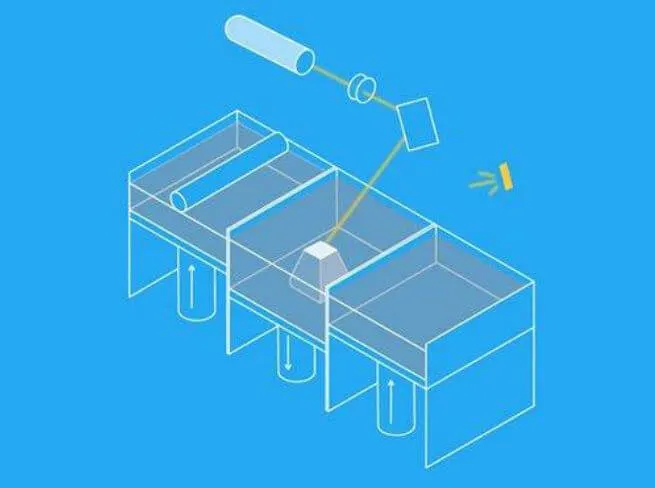 Source: Formlabs.com
Nylon, a popular engineering thermoplastic with excellent mechanical properties, is the most common material for selective laser sintering.
Nylon is solid, lightweight, and versatile as well as resistant to impact, chemicals, heat, UV light, water, and dirt.
SLS is a perfect choice among engineers for functional prototyping and a cost-effective alternative to injection molding for limited run or bridge manufacturing due to its low cost per component high efficiency and established materials.
SLS is suitable for:
Prototyping for features
Customize, short run, bridge manufacturing
End use parts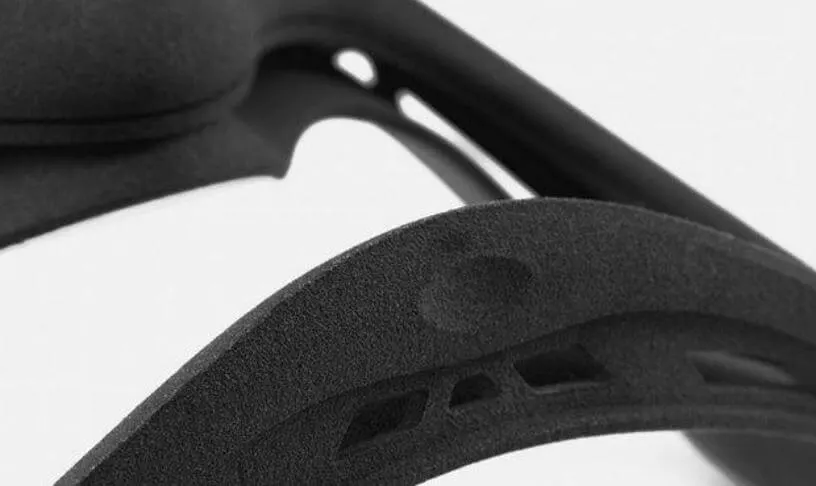 SLS printed objects has likely rough finish and nearly no visible layer lines (Source: Formlabs.com)
– Fused deposition modeling (FDM):
At the consumer level, FDM, also known as fused filament fabrication (FFF), is the most commonly by extruding thermoplastic filaments like ABS and PLA through a heated nozzle, melting the material, and layering it onto a building frame.
The machine will add each layer one by one until the part is finished. Best Creality for 3D printer uses this method, we will mention about it below.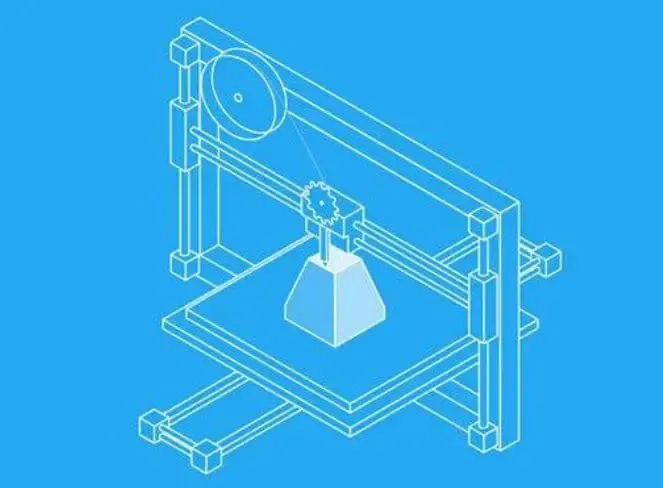 Source: Formlabs.com
FDM technology is ideal for simple proof-of-concept models. It is also fast and low cost prototyping of simple parts that would otherwise be machined.
However, as opposed to SLA or SLS, FDM has the lowest resolution and precision, making it unsuitable for printing complex designs or sections with intricate features.
Chemical and mechanical polishing processes can produce higher quality finishes.
Industrial FDM printers use soluble supports to address some of these issues and can print a wider variety of engineering thermoplastics, but they come at a high cost.
FDM printers are suitable for:
Basic concept models
Simple prototyping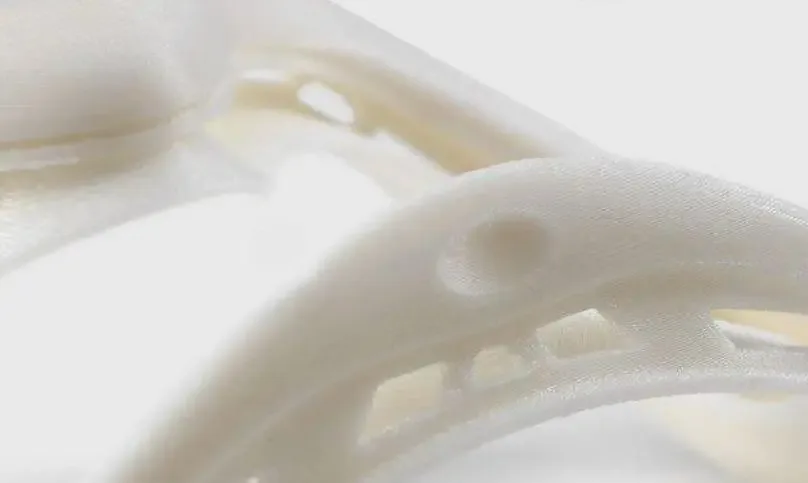 FDM printed objects has lots of visible layer lines and some inaccuracies around complicated features (Source: Formlabs.com)
2. Types of materials for Creality Printers
The materials that can be used for 3D printing have come a long way since then.
There is now a wide range of different content forms used in various states (powder, filament, pellets, granules, resin, etc.).
Specific materials, with material properties that are more specifically customized to the application, are now commonly designed for specific platforms conducting dedicated applications (an example would be the dental and jewelry sector).
However, there are now far too many products available from numerous manufacturers that you can use for your best Creality 3D printer to cover them all.
– Plastic:
A lot of hobbyists use nylon, also known as polyamide, in the sintering process as a powder.
Or in the FDM process, it is used as a filament. It comes in natural white color, but can be colored before or after printing.
This material can also be combined (in powder form) with powdered aluminum to create Alumide, a common sintering 3D printing material.
ABS is another popular material in filament form on entry-level FDM 3D printers.
It is an especially tough plastic that comes in a number of colors.
Furthermore, you can purchase ABS in filament form from a variety of non-proprietary sources.
PLA is a biodegradable plastic that has gained popularity recently.
It is available in resin form for SL processes and in filament for FDM.
It comes in a range of colors, including translucent, which has proven to be a useful choice for some 3D printing applications.
However, it is not so long-lasting.
– Metals:
Metal and metal composites are rapidly being used in industrial 3d printing.
Aluminum and cobalt derivatives are two of the most common.
Stainless steel in powder form for the sintering, melting, or EBM technologies is one of the strongest and hence most widely used metals.
It is naturally silver but can be plated with gold or bronze to give it a different appearance.
Gold and silver have recently been added to the list of metal products that can be 3D printed directly, with clear applications in the jewelry industry.
All of these contents are highly solid and are processed as powder.
Titanium is one of the strongest metals available, and it has long been used in 3D printing industrial applications. It is available in powder form.
– Ceramics:
Ceramics are a relatively new class of materials that can be used to print 3D objects with varying degrees.
It is worth noting that, after printing, the ceramic parts must go through the same processes as any other ceramic component produced with conventional methods of production, namely firing and glazing.
– Paper:
The proprietary SDL process supplied uses standard A4 copier paper as a material.
It follows a distinct business model from other 3D printing vendors, in which the machine's initial outlay is in the mid-range, but the emphasis is on a simply obtainable.
This is a cost-effective material supply that you can buy locally.
Paper-based 3D printed models are safe, environmentally friendly, and easily recyclable, and they do not require any post-processing.
– Biomaterials:
The potential of 3D printing biomaterials for a variety of medical and other applications is the subject of extensive research.
At a number of leading institutions, living tissue is being researched with the aim of improving applications, such as printing human organs for transplant and external tissues for replacement body parts.
Other research in this field is based on the production of food products, with meat being the most prominent example.
– Food:
Of course, this not a widely used material.
Extruder experiments for 3D printing food substances have exploded in professionals over the last few years.
The most famous is chocolate.
There are also printers that deal with sugar, as well as some pasta and meat experiments.
In the future, we can hope to see whether 3D printing technology can be used to create finely balanced whole meals.
Best Creality Printer Shortlist
*Ratings are from Amazon at the time of publication and can change
The Best Creality 3d Printers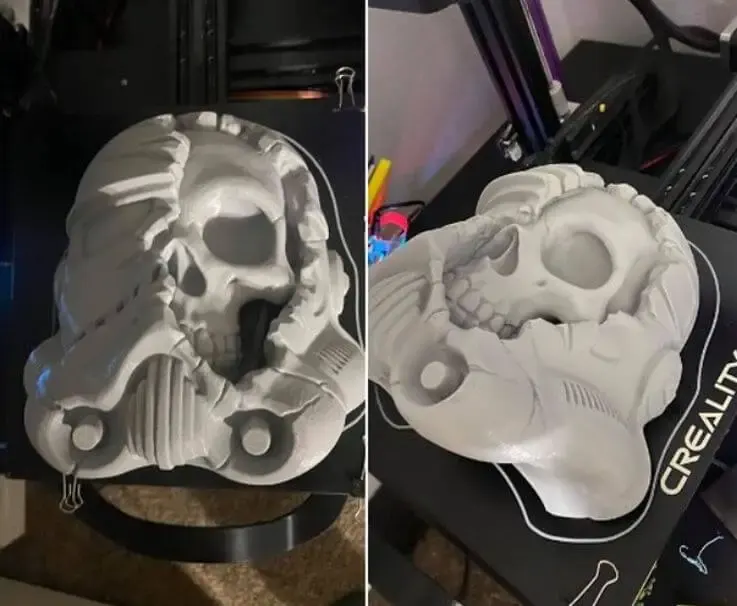 Key features:
Upgraded C magnet build surface plate
UL certified power supply
Extra tempered glass plate
Metal extruder
Printing stability
At the price range of about $250, Ender 3 is our first recommendation as to the best Creality 3D printer so far.
Although there are plenty of products to look at, such as Voxelab Aquila or Elegoo Neptune 2, we are still sticking with the Ender 3 until now because it is the most budget-friendly and versatile option.
It has a heated print bed, allowing it to print a wider variety of materials. It helps in the adhesion of molten plastic to the bed, prevents larger prints from warping, and facilitates the removal of finished pieces.
However, we suggest using PLA and PETG as printing materials.
Since without adjudication, Ender 3 can not deal with higher temperature tough materials like nylon.
Pros:
Affordable
Enormous community
Decent printing quality
Compact design and easy assembly
Cons:
Lack of auto-leveling bed
Hard to print high temperature required materials
Require manual calibration
How to use Ender 3? Here you are: 
#2. ENDER 3 V2 – UPGRADED VERSION
Key features:
Easy to use
Printing stability
Carborundum glass platform
Silent printing
Smart resume printing
In fact, Creality Ender 3 V2 is not so much a complete difference from the previous version – Ender 3.
It takes the basic design that serves the original so well and also introduces useful features that make it more workhorse-like and comfortable to use.
The construct volume is 8.66×8.66×9.84 inch, the same as the Ender 3 before it. Similarly, the Bowden style extruder and the ability to print various consumer filaments like PLA, PETG, and TPU (with care), are still available.
Belt tensioners, modified electronics, including a 32-bit board and print silencing TCM2208 stepper motor drivers, an integrated tool storage drawer, and some other upgrades are all news for the V2 version.
Pros:
The Carborundum glass platform enables the hotbed to heat up quicker and prints to adhere better.
2 new printing modes: Silent and smart resume
High-quality prints
Worth the price
Cons:
Bed wheels are too tight that can be damaged
Can not replace parts as needed
Motherboard technical issues
All you need to know about the Ender 3 V2: 
#3. CR-6 SE – PROFESSIONAL CHOICE
Key features:
Easy to use
Quiet operation
Pro performance
High-quality life addons
Instead of offering exclusive and unique features, Creality prefers to go above and beyond the "Pro" updates of all their products.
This CR-6 SE is an example. Until now, for beginners, CR-6 SE is one of the most advanced printers with boasting patented auto bed leveling and a wealth of tiny details that added up.
If you are thinking of getting an Ender 3 V2 and have some extra cash, CR-6 SE is essentially the deluxe version of that best Creality for 3D printer.
Pros:
Auto bed leveling system
Easy to setup
Full-color touchscreen
Cold and quiet operating
Cons:
Expensive for home users
The execution is flawed
Reported to have switch issues
How does the CR-6 SE compare to the Ender 3? Watch this video to find your answer: 
#4. CR-10– LARGE PRINTING SIZE PICK
Key features:
Large printing size
Resume print feature
There is one key reason why you should choose the CR-10 Mini over the Ender 3 Pro.
The build area is wider, measuring 300 x 220m. While the CR-10 Mini lacks the same level of community support as its older version, the CR-10, still has a thriving group of users.
However, if you do not need the additional build area, we suggest the Ender 3 is enough.
It is a newer and more capable computer in general.
One thing to keep in mind is that the CR-10 line has a tendency to go in and out of stock on eCommerce websites.
Pros:
Genergous build volume
External control board
Improved build quality
Cons:
Do not last long
Instruction is not complete enough for beginners
Sometimes the extruder randomly heated up to a temperature hot enough to cause smoke and burnt plastic odor.
Nexi Tech reviewed the CR-10 Mini from unboxing to test printing. Check it out here: 
#5. LD-002H RESIN – FULLY ENCLOSED AND RESIN PRINTER OPTION
Key features:
Fast printing and longer lifespan
Ultra accuracy printing
Air filtration system with activated carbon
CHITUBOX Slicing software
Easy to assembly and level the platform
The LD-002H is the best Creality for 3D printer that costs under $250, which is significantly less than equivalent competitors like the Mars 2 Pro.
It stands out from the competition thanks to the addition of an activated carbon filter and the use of Chitubox firmware.
For the LD-002H, the Wi-Fi connectivity would have been good, but the users are most disappointed by the lack of certain vat comfort features, such as protruding bumps or a pouring aid.
This machine, on the other hand, is on par with some of the top dogs in this range.
Creality also provided some updates in this machine compared to its predecessor, such as a significant increase in print volume as well as the monochrome LCD screen, which has become very necessary.
Pros:
Affordable resin printer
Air filtration
Perfect surface finish
Cons:
Loud noise release
Cured resin residue left on vat after every print
Hard to level
Not for beginners
LD-002H Unbox and Setup:
Key features:
Titan direct drive
Dual part cooling fans extruder 
Silent motherboard
All metal frame and triangle stable structure
The CR series has been popular with users.
Frankly speaking, the only real difference from the CR-10 V2 to CR-10 V3 is the upgrade from a Bowden to a Titan direct drive extruder, which necessitates slight improvements to the spool holder and filament runout sensor.
How is it different?
Loading filament with a direct drive extruder is usually simpler than with a Bowden one.
Reduced stringing and oozing can also result in improved output when retracting filament.
One drawback of the V3 version is the control unit's umbilical connection and the tangle of cables that come with it.
It is basically a right of passage to get the pause inducing discomfort of correctly long these tendrils to prevent snagging on the moving axes.
Pros:
Perfect wiring management
Solid and strong structure
Easy to operate
Cons:
Some users face problems with the control box
Stop printing randomly
Metal hot end clogs easily
Cooling system problems
Belt gouges cause strange banding issues
Official CR-10 V3 How to Assembly and Operate?: 
Key features:
Upgraded Bowden PTFE tubing
Metal extrusion frame
Removable platform
Double Y-axis with stable output
High standard V groove profile
The Ender 5 Pro comes with a brand new Bowden PTFE tubing, an improved Y-axis motor, a metal extruder, and few other minor upgrades over the Ender 5.
To speak more clearly, it is the best Creality 3D printer that provides incredible value for your money with just under $500.
It has a magnetic self adhesive build base, a new metal extruding unit, and a modular design that requires minimal assembly.
The improved 3D printer filament tubing has an internal diameter of 1.9 mm to 0.5 mm, which eliminates any excessive space and prevents filaments from bending and warping.
This amazing feature allows you to print versatile filaments such as TPU, TPE, and other thermoplastic materials.
Pros:
Easy assembly
Silent processing
Durable extruded frame
Convenient filament tubing
Power recovery
Cons:
Require consistent re-leveling
Do not have a filament sensor
Hard to clean the magnetic bed
A quick review and first test printing on Ender 5 Pro by GeekSmart: 
Best Creality Model: What To Consider Before Choosing?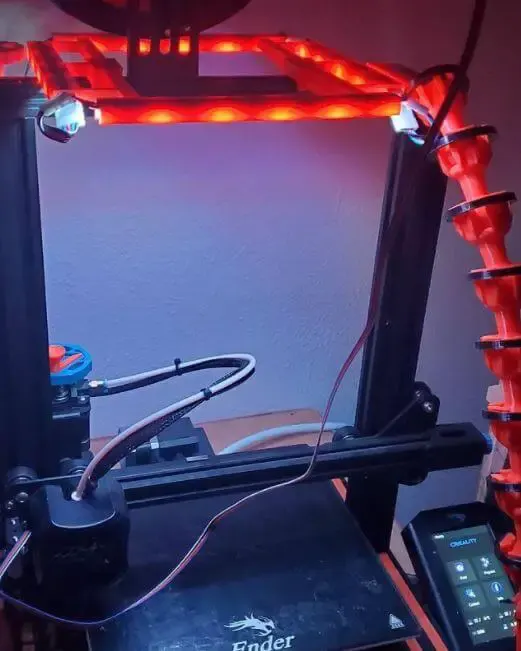 1. Your Purpose
This is a basic but also a fundamental question: Why do you want to print in 3D?
The right 3D printer for you is the one that can answer the question of how you want to use it.
Consumers and schools would want a model that is simple to set up and use, requires little maintenance, and prints fairly well.
Special features, such as the ability to print items in several colors or with multiple filament kinds, may be desired by hobbyists and artists.
Designers and other users will search for high-quality ones.
Short-run printing people may need a wide build area in order to print many items at once. Individuals or companies who want to show off the wonders of 3D printing to friends or clients will want a machine that is both attractive and reliable.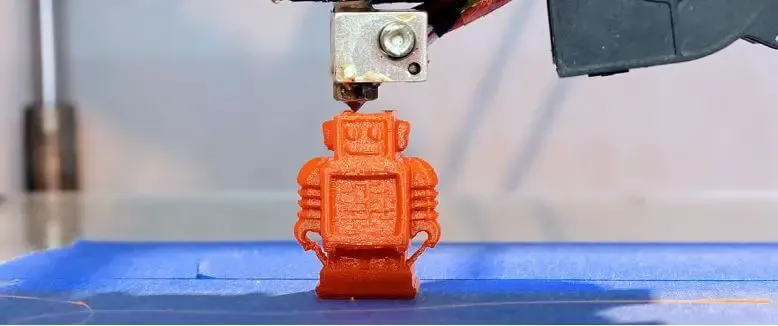 Source: EdTech Magazine
2. The Size Of The Objects You Want To Print? 
Make sure that the build area of the printer is wide enough to accommodate the items you want to print.
The build area is the three-dimensional size of the largest object that can be printed with a given printer (at least in theory, it may be a little smaller if the build platform is not perfectly flat, for example).
The average build area of a 3D printer is 6 to 9 inches square, but it can vary from a few inches to more than 2 feet on a side, and a few are square.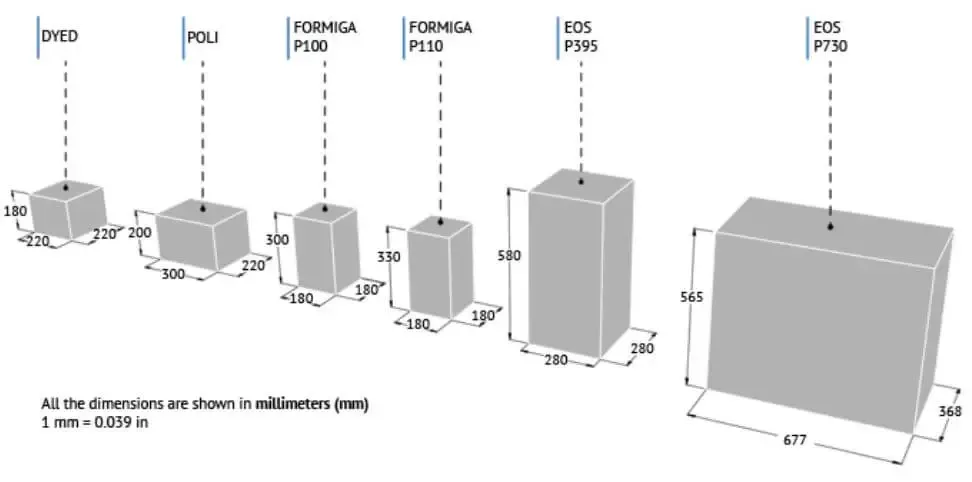 Knowing the size you are going to print is important (Source: Sculpteo)
3. What Kinds Of Materials Do You Have?
Most low-cost 3D printers use the FFF method, in which spools of plastic filament are melted and extruded, then solidify to form the item.
Acrylonitrile butadiene styrene (ABS) and Polylactic acid (PLA) are the two most popular filament types.
Each has its own set of characteristics.
ABS, for example, melts at a higher temperature and is more stable than PLA, but it emits gases that many people find irritating when melted, and it requires a heated print bed.
PLA prints appear smooth, but they are fragile as well.
High impact polystyrene (HIPS), wood, bronze, and copper composite filaments, UV luminescent filaments, nylon, Tritan polyester, polyvinyl alcohol (PVA), polyethylene terephthalate (PETT), polycarbonate, conductive PLA and ABS, plasticized copolyimide thermoplastic elastomer (PCTPE), and PC ABS are among the other products used in FFF printing.
The best Creality for 3D printer can easily deal with these kinds. Since each material has a different melting point, these exotic filaments can only be used in printers that are equipped for them or have software that allows users to monitor the extruder temperature.
Last but not least, most models use the smaller diameter filament, which comes in two diameters: 1.85mm and 3mm.
The filament is offered in 1kg spools, with prices vary for different materials.
Although many 3D printers supper generic spools or cartridges, some use proprietary ones.
These frequently include an RFID chip that allows a printer to recognize the filament form and properties, but this only works with printers from that manufacturer.
Make sure the filament is the correct diameter for your printer, as well as the spool size.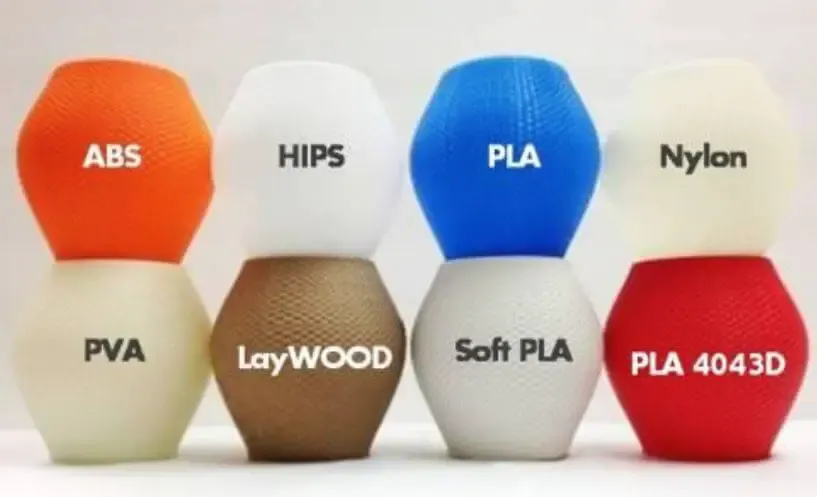 3D printing common materials (Source: 3DPrint.com)
4. The Required Resolution: Great or Basic?
A printer uses instructions coded in the file for the object to print and extrude successive thin layers of molten plastic.
Layer height equals resolution in 3D printing. Microns are used to quantify resolution, with one micron equaling 0.001 mm.
The smaller the number, the higher the resolution. Since the thinner each layer is, the more layers require to print any given object.
Also, the finer the detail that can be captured, the more layers are required to print it.
However, increasing the resolution is similar to increasing the megapixel count on a digital camera: A higher resolution can help, but it is not always a guarantee of perfect print quality.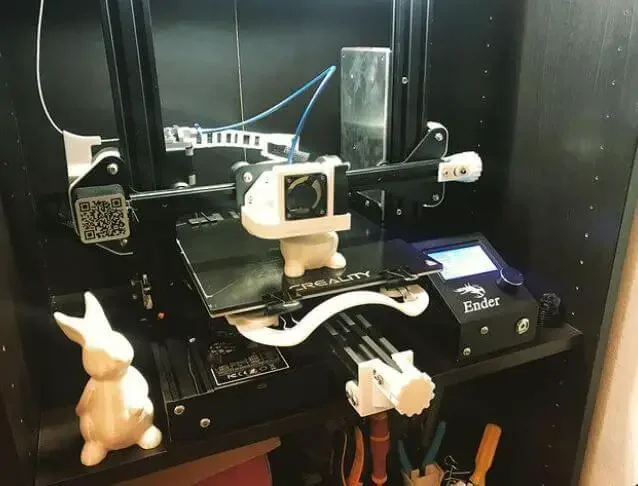 Almost all products on the market today can print at a resolution of 200 microns or greater, and many can print at 100 microns, which produces generally good quality prints.
Some printers can still print at higher resolutions, up to 20 microns, but you will need to go beyond the default resolutions and into custom settings to get it finer than 100 microns.
However, higher resolution comes at a cost. Thus, the best Creality 3D printers with greater than 100 microns typically cost more.
Another drawback of rising the resolution is that it will lengthen the time it takes to print.
By having the resolution, the time it takes to print a given item is approximately doubled.
The extra time can be worth it for professionals who expect the highest quality in the items they print.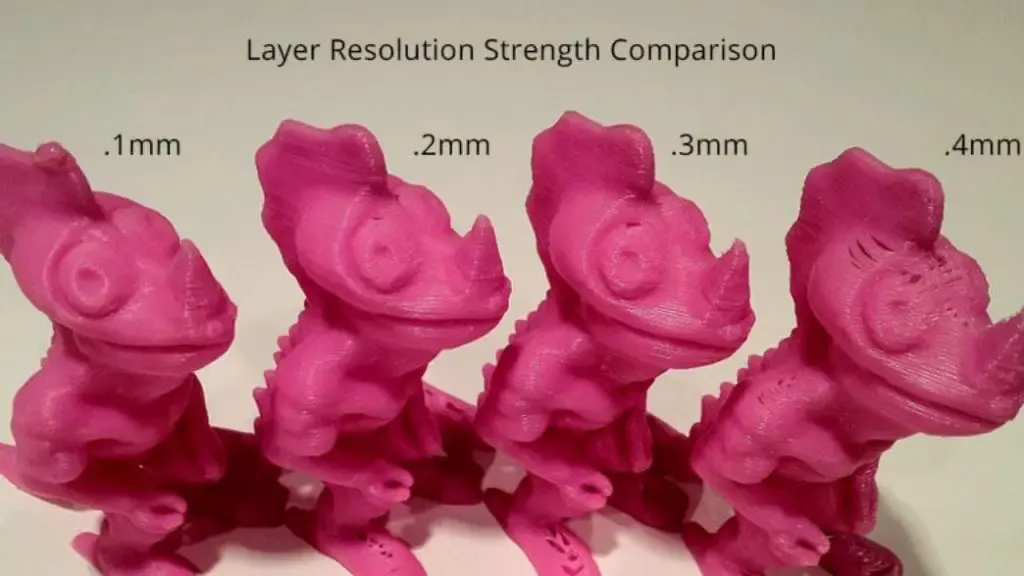 3D printer resolution effects strength (Source: To Buy A 3D Printer)
5. Multiple Colors Pro
Objects can be printed in two or more colors on certain machines with multiple extruders.
The majority are dual extruder versions, with each one feeding a different filament color.
One limitation is that they can only print multicolored objects from files that have been explicitly developed for multicolor printing, with a separate file for each color, so that the areas of different colors fit together like three-dimensional jigsaw puzzle pieces.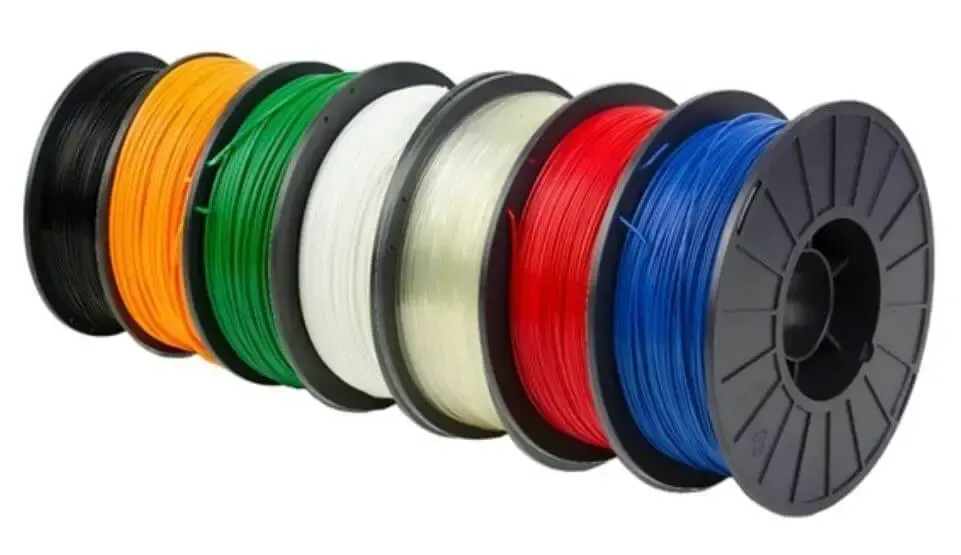 Multicolor filament (Source: 3D Printer Universe)
6. The Build On Surface. What is the best size for bed?
The importance of the surface on which you will print may not be obvious, but it is crucial in practice.
A good platform can allow the object to stick to it while printing, but it should be easy to remove once completing printing.
A heated glass platform covered with blue painter's tape or a similar surface is the most common configuration.
Objects bind to the tape fairly well and once finished, they are easy to remove.
Curling upward of the bottom corners of items can be prevented by heating the platforms, which is a common problem when printing with ABS.
A sheet of perforated board with tiny holes that fill with hot plastic during printing is used by a few 3D printers.
The problem with this approach is that, although it can keep an item firmly in place during printing, it may be difficult to remove afterward.
To free the item and clean the surface, use a thumbtack or an awl to force the plugs of hardened plastic out of the perforations.
This is a time-consuming operation that can also harm the board.
Furthermore, it is also crucial to start a print task with the extruder at the proper height above the build platform.
You can calibrate the Z-axis calibration by lowering the extruder until it is near enough to the build platform that a sheet of paper put between them will travel horizontally with minimal resistance.
Normally, you have to calibrate the axes manually, but best Creality for 3D printer can do it automatically.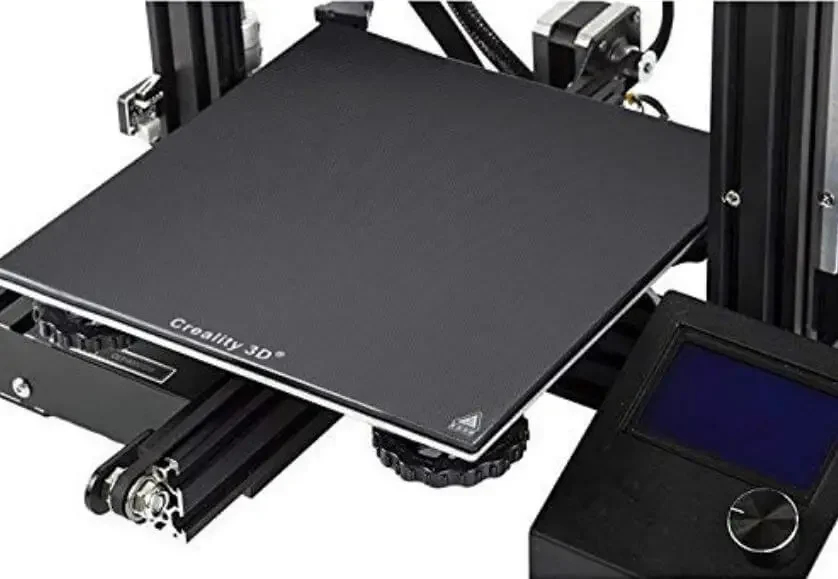 Creality Ender 3 build on plate (Source: All 3DP)
7. Do You Really Need A Closed Frame?
Closed frame 3D printers have a door, walls, and a lid or hood that are all enclosed.
Opened frame models allow for quick access to the print bed and extruder, as well as visibility of ongoing print jobs.
A closed frame one is somehow better because it prevents external factors like children, pets, and even careless adults from touching the hot extruder.
It also means quieter operation, with less fan noise and odor, especially when printing with ABS, which can emit a burnt plastic odor.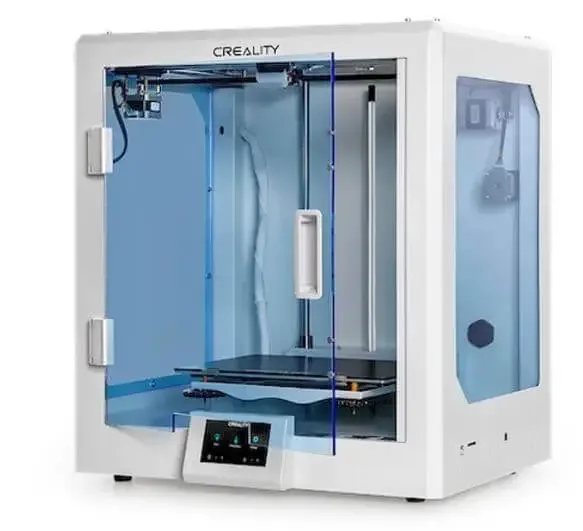 Creality 3D printer enclosure (Source: All 3DP)
8. Connection Ports And Software
Most printers work with a USB connection.
Some have built-in memory, which allows them to retain a print task in memory and continue printing even if the USB cable is disconnected or the device is turned off. Just a few have wireless access, either Wi Fi or a direct peer to peer connection.
Wireless has the disadvantage of taking longer to upload the printing files, which can be up to 10MB in size.
Another linking option is ethernet, which allows you to share a printer over a local network.
Besides, some now use SD (or microSD) card slots.
You can upload and print object files using the printer's controls and monitor.
A suite of software is included with most of today's 3D printers, either on a disk or as a download.
It is compatible with Windows, macOS, and Linux as well.
A printing program that manages the motion of the extruder, a healing program to refine the file to be printed, a slicer to prepare the layers to be printed at the correct resolution.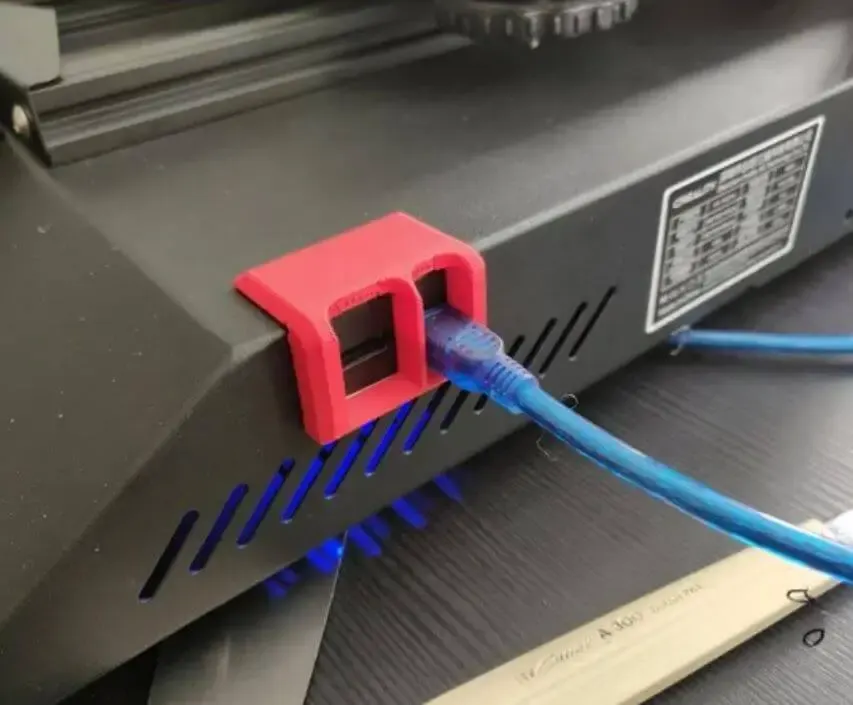 CR-10S USB port (Source: Thingiverse)
Frequently Asked Questions About Choosing The Best Creality
1. How Much Do Home 3D models Cost?
A lot of entry-level and hobbyist 3D printers cost between $200 and $500, with some going for as expensive as up to $2000.
High-end 3D printers, such as professional ones, range in price from $1500 to $6000, depending on the capabilities of the printer.
2. How Long Does It Take For 3D working?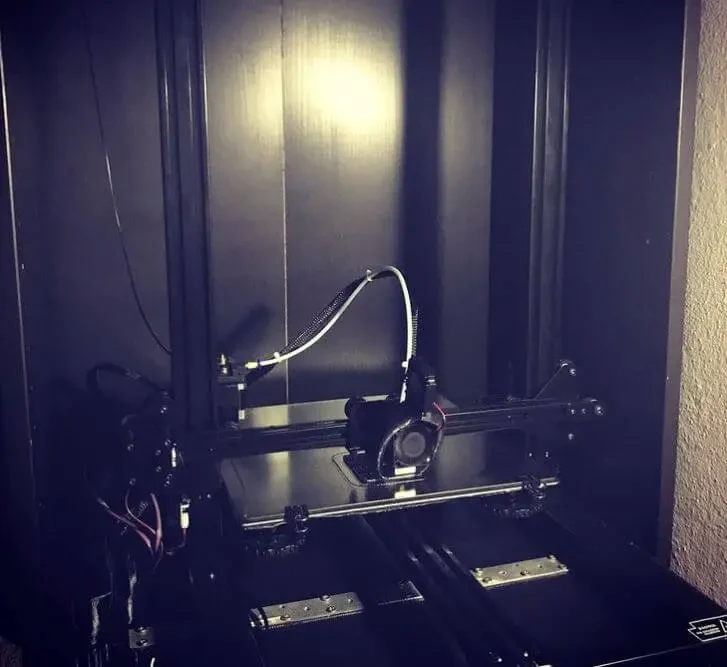 The time it takes to 3D print a part is determined by a number of factors.
The size, height, complexity, and printing technology used are all factors to consider.
This can take from 30 minutes to several days. The larger the part and the more complicated it is to print, the longer it takes.
3. How To Fix The Nozzle Not Discharging?
According to Creality, you have to try 3 steps:
a. If the loading filaments are not in order, reinstall them.
b. If the nozzle is too close to the bedding, relevel it.
c. If there is clogging in the plug, clean the throat.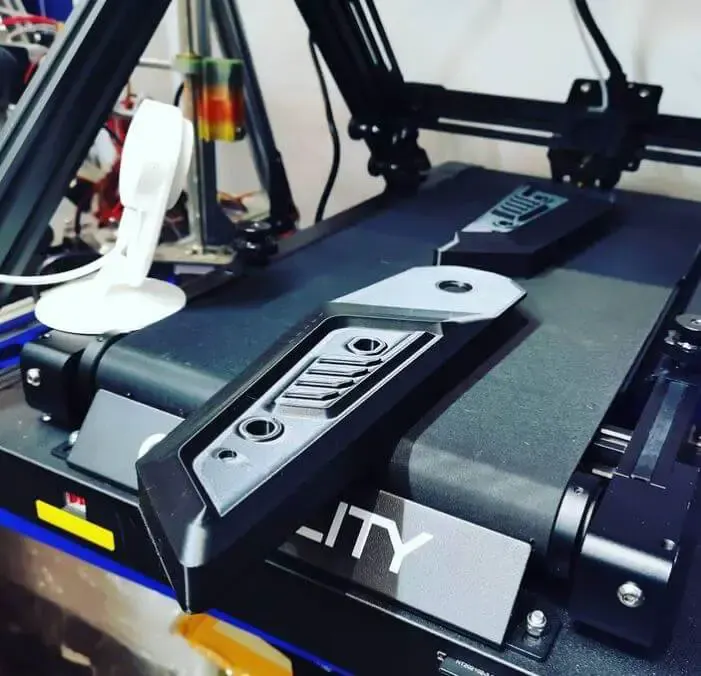 4. How To Fix When The Machine Is working Without Any Filaments?
Check to see if the motor's extrusion gear is loose. If yes, try to tighten the top screw.
Check if there is any knotting or clogging in the filaments. If yes, straighten them out.
If there is clogging in the plug, clean the throat.
5. What To Do When Hotbed Heating Not Working?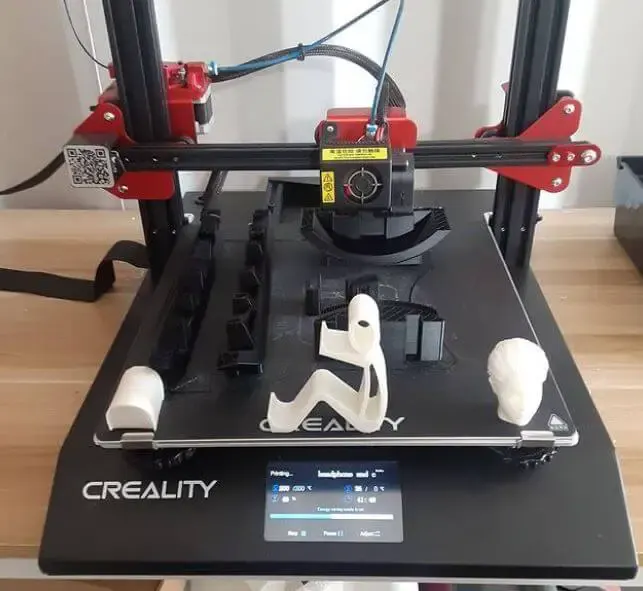 Without using the heating command, check to see if the temperature shown on the monitor is normal room temperature.
If not, it is most likely a thermal issue, simply replace it with a new one.
Besides, check to see if the output voltage of the main board's hotbed port is 24V when heated.
If there is no voltage, the problem is with the main board, which needs to be replaced.
Otherwise, it is most definitely a problem with the hotbed board, which should also be replaced.
Conclusion for Best Creality Ender Pro
Before deciding, we suggest you to make some basic considerations. Decide whether you want to make, miniatures or tiny models first. If that is the case, you will need a resin printer, or a filament one. Then, think about the size of the pieces. If you need very large prints, your options will quickly become limited. Finally, how much money do you have?
After all, which 3D printer is the best for beginners? The CREALITY ENDER 3 printer is still our First pick amongst other products since it has widely used by a lot of people and received cool feedback for years. The ENDER 5 PRO printer is a more professional choice, for users who want to experience the new type of PTFE tubing. It also works silently, which is great in our opinion.
Choose wisely your best Creality for 3D printer. We would not recommend going with the cheapest option because, in fact, those are the printers that generate the poorest quality results and cause the most frustrations. Choose what is suitable for your purpose is the key.
Further Reading:
Tags: great print, creality's, max bed leveling reasons, bed leveling automatic, original creality ender, automatic bed leveling store, creality automatic bed, creality official, back, large bed, neo volume,  opens, max powerful, large bed leveling, bed leveling, creality 3d, creality 3d official, max creality 3d scanner, creality 3d files, better and better printers,