Thanks to the ability to combine different colors and materials at one time, dual extruder printers are becoming so much popular among hobbyists. However, finding the best dual extruder 3D printer under $500 is quite hard because there are so many brands on the market today with different qualities and features.
In this article, we will explain why you need this type of printer, or what you need to consider before buying one. Of course, there is also a list of suggested products we have tested. Hopefully, you can make your most suitable choice after reading.
Let's take a look!
The Top-Rated Dual Extruder 3d Printer Under $500 (Recommendations)
#1. GEEETECH A10M– TOP PICK
#2. SOVOL SV02– BEST FOR BEGINNERS
#3. ANYCUBIC PHOTON MONO SE– COMMON CHOICE
#4. ADIMLAB GANTRY PRO– AFFORDABLE OPTION
#5. CREALITY CR-10 V3 – BEST LARGE FORMAT DUAL EXTRUDER 3D PRINTER
#6. FLSUN QQ S PRO
---
Related:
Why Do You Need A Dual Extruder Printer?
The best 3D printer with dual extruder gives you more printing options, both in terms of using many materials and the ability to make things with different colors. It also allows you to make the 'supports' for your models at the same time. So that you can ensure that they do not warp or break.
Moreover, this type gives you many more options than a single extruder one. It allows you to make more complex as well as stronger models depending on the filament mix you want.
However, nowadays, they are currently a simple upgrade from the single version. Two nozzles share the same head and move as one component in twin extrusion. As a result, they do not print twice as fast as single printers. Each nozzle would have to move independently without interfering with the others for this to be true.
Best Extruder 3D Printer Under $500: Common Types
There are two popular types you can find on the market today:
1 – Dependent dual extruder 3D printer
This type has two dependent extrusion units that are 'stuck' to each other and move together, as the name states. Thus, this two move in the same direction.
Some printers include two extruders that feed into a single nozzle or print head. With soluble filaments like PVA and HIPS, this type can help you to make support shapes as well.
Despite this is the most popular type, there are some cons to using this sort of printer. It may be material oozing from inactive nozzles, inactive nozzle sticking to the object, and the limit of materials.
2 – IDEX
Nowadays, more and more people prefer this one thanks to its features and fast speed. The word IDEX stands for "Independent Dual Extruders 3D Printer." It has two extruders, one with print heads and the other with a carriage. They move in their own direction and can print with the same or different materials or colors at the same time.
This one is perfect for working with large and hard designs. As the inactive head moves to the side of the machine bed, it can reduce oozing well.
There are 2 modes: Mirror and duplication modes. Duplication mode allows you to make two same items at once, whilst mirror mode allows you to make the object and its inverse at the same time. As a result, the making is faster and more efficient.
You can also adjust the nozzles at two different temperatures with each print head. Moreover, you can use a variety of materials (metal, plastic, wood, etc.) to make more complex things as you like.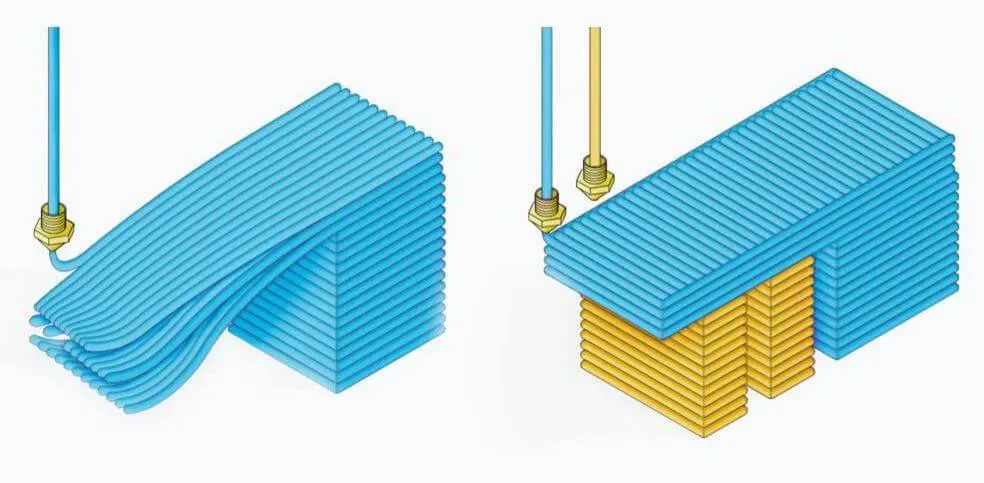 Printing with IDEX technology (Source: bcn3d)
Best Dual Extruder 3D Printer Under $500: Pros And Cons
Each type of machine has its own pros and cons. Here we have listed some of them for you:
1 – Advantages:
More options:
This type opens a new door of different printing models. It allows you to switch between printing materials on the go. Therefore, it saves your time and effort as well.
When you need to create a part with many colors, these ones come in handy. In fact, the second nozzle is designed just to do that, as well as provide a few other useful features. This machine is totally perfect for people who always want to make new and unique things.
With the help of a dual lump, for example, you can create prints that mix and match a variety of materials with various essences.
Multi-color printing:
If you pay attention to the look of your models, one clear benefit of dual 3D printing is the option to work with two different colors. This will come in helpful if you need some special parts of a print to stand out from one another. 
Supports: The machine can make things from a normal material and a quickly dissolvable material as the support system. This is maybe the most important thing if you are looking for usefulness. Many people like it since it does not only make it easier to remove supports but also ensures that they are not left on the final object.
PLA and PETG are two of the most popular filaments for support structures. 
2 – Disadvantages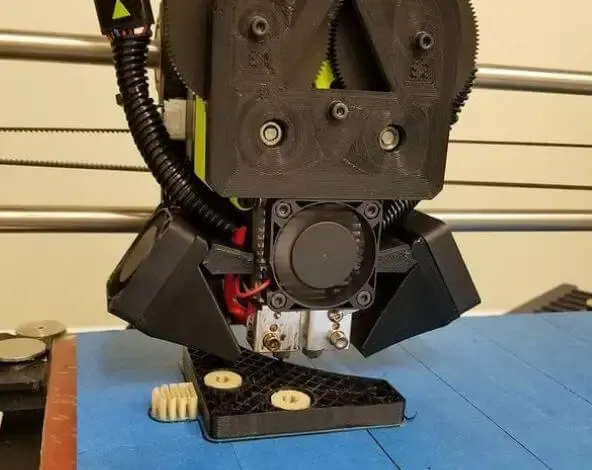 However, maybe you do not really need a dual machine. Why? Let's have a look at its disadvantages.
Do you really need it?
There is a lot of good single extruder 3D printers on the market that many people prefer and believe are ideal for their purpose. It turns out that you may never really need the powers and features of a twin machine.
Because we know how successful single extruders can be, two extrusion printing adds a layer of brilliance to the mix. However, if you are looking to keep things simple, a dual extruder may not be worth the investment.
Higher price:
Of course, we all want to buy a dual one if possible. But do you know that these machines are far more expensive?
It goes without saying that if you have a second extruder nozzle, you'll need a second filament. This additional cost can be difficult to manage at times.
Single extruders, on the other hand, can be purchased for as little as $200 and deliver far more power than their pricing suggests. Dual extruders, on the other hand, will set you back a lot more money if you want a nice one.
Maintenance:
It is common knowledge that a printer's extruders need to be cared for and maintained on a regular basis. The nozzle could become clogged, or there could be multiple issues with the hot end.
As a result, printers with two extruders are prone to twice the problems. You have two hot ends and two nozzles that require attention every other week or so.
Best Dual Extruder 3D Printer Under $500: How To Print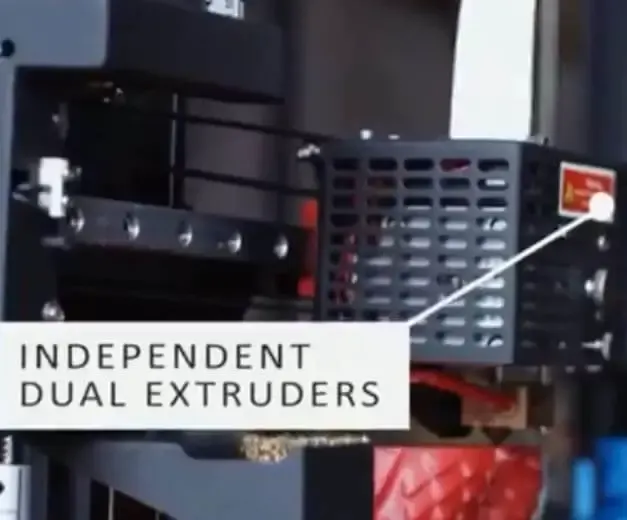 Printing using this type is harder than using a single extruder one. You must split your model file into two sections, one for each extruder so that your printer can know which one should be working. To let it know which extruder prints which file, you have to follow the instruction of the printer. Note that not all machines have the same guidelines. However, in most cases, it is a just simple matter of choosing from the menu.
So, where can you find files for dual type? Do not worry because a lot of files are already available on the internet. However, some people will want to make their own.
Generally, the simplest way to do this is to make a model. Firstly, make a massive simple solid that will be used to make your support model. It will surround your model, and then cut or intersect your object with the support object. What you will end up with is a solid that fills in the gaps in your main model. You should first clear up the support model because some of it is unnecessary. For example, the parts that are not supporting anything and are placed on top of the main model. Once you have created these two solid collections, export each one separately as a .STL file.
For multicolor or composite material models, you have to generate each component that you want to print in a different color or material as part of your design process. Simply group the elements of your model in one color or material together and export as an.STL file.
Best Dual Extruder 3d Printer Under $500 Shortlist
*Ratings are from Amazon at the time of publication and can change
Best Dual Extruder 3d Printer Under $500: Which One Is The Best?
Key features:
Item dimensions: 18.82 x 16.26 x 19.09 inches
4 printing modes
Easy to set up
Filament detector and break resume
If you are looking for a good pick under $500, you should take a look at our top pick. Firstly, its nozzle hot end is fed by two extruders. This allows it to work in four different modes: single color, dual color, graded color, and mixed color. You may either lay down two different colors at the same time or mix several colors to create new colors and tones with Geeetech's Color Mixer program.
It offers a build volume of 220 x 220 x 260 mm, which is too good for a 3D printer at around $300. The printer's open-source control board also gets future updates like auto-leveling and a Wi-Fi module.
This machine is by far the best dual extruder 3D printer under $500 on this list. Moreover, it is a great example of how far low-cost printer products have developed in recent years. Of course, it still has many mistakes, but at this price point and with the promise of multi-color printing, you should give it a try. 
Pros:
Mix color printing
Has break resuming feature
High adhesion building plate
Open source control board to receive updates
4 working modes
Cons:
Unclear setup instruction
Loud noise
The hot end keeps staying hot
Is Geeetech A10M suitable for you? Let's watch this video:
#2. SOVOL SV02– BEST FOR BEGINNERS
Key features:
Item dimensions: 24 x 22 x 11.1 inches
Full metal body
Large build volume
Silent operation
Color touchscreen
This product is maybe the best dual extruder 3D printer under $500 for beginners because it comes 95 percent pre-assembled, so you can start printing right away. Its full-metal body is sturdy and long-lasting, and the touchscreen is simple to use. It is very hard to find another 3D printer with the same build volume and the option to print in two colors (or two types of filament) at this price.
You may also buy an extra kit that changes this machine into a laser engraving machine. A lot of people are impressed with its smoothness. Moreover, during working, the only sound is that of the fans. Thus, it is ideal for users who like silent ones.
Pros:
Almost pre-assembled
Silent operation
Ideal for beginners
Tempered glass build plate
Has break resuming feature
Cons:
Easy to be broken during delivery
Can not detect when the filament is over
Has clogging issue sometimes
Tips when using Sovol SV02:
Key features:
Ultra-fast speed
Strong stability
Full metal frame
Wifi connection
Efficient cooling system
Because of its excellent quality, quiet working, and dual Z-axis linear rail for stability, this product has gained a lot of good comments on Amazon. Moreover, we think it is the best resin 3D printer under $500 we have tested. This enclosed machine is almost entirely pre-assembled and ready to use, includes an offline printing option, and a touchscreen. Therefore, you do not have to worry much even when you are a newbie. 
Moreover, this can print at amazing speeds which improve your experience and saving time. It can print at 1.5-2.5 seconds per layer, depending on the resin. In fact, this means you can print a complex model in around 60% of the time it would take on another product. That is a significant saving, especially if you are a tiny firm selling models. Besides, the Mono SE excels at the level of precision required by an expert to finish their task. 
Another benefit of having an internet connection for professionals is that it lets you know when your work is completed. Therefore, it allows you to better manage your time. 
Pros:
High precision
4x faster speed than other Anycubic photon machines
Has wifi connection
Full metal body
Cons:
Photon software is not good
Leak a lot of strong resin smell
Hard to take the models off the platform
Is Anycubic Photon Mono SE worth a try?
Key features:
Item dimensions: 520 x 550 x 620 mm
90% pre-assembled
Filament detector
Lattice glass platform hotbed
Titan direct extruder
This is another product that comes pre-assembled. However, you must unbox it and use the provided screws to attach the frame to the base. Connect the wires that are all labeled, attach the brackets on either side of the base, then connect the control box. It is quite quick and simple and does not require much more effort. 
All that's needed is to plug it in and check that the bed is level. To level it, adjust the temperature with the control box, then raise and lower the unit until it is level and the filament extruder nozzle can easily connect to.
Pros:
Almost pre-assembled
Stable and wear-resistant
Has break resuming feature
Has filament run-out detector
Cons:
Temperature issues
Not good customer service
Unstable speed
How to set up your first ADIMLAb machine? 
#5. CREALITY CR-10 V3 – BEST LARGE FORMAT DUAL EXTRUDER 3D PRINTER
Key features:
Item dimensions: 21.65 x 16.54 x 25.59 inches
Titan direct extruder
Dual cooling fans
Silent motherboard
Full metal frame
In fact, this is an updated version of the old CR-10 V2. It has changed from the Bowden extruder to a titan direct drive one, in addition to the changes of the spool holder and filament run-out sensor. Loading filament with a direct drive extruder is often easier than with a Bowden one like before. Reduced stringing and leaking may also result in better performance when retracting filament.
It also has a driver that is completely silent. The printer can function at less than 50 decibels using this. During the ongoing working process, there is a guarantee of a smoother printing experience with far reduced motor noise. Although you can not describe it as super quiet, it is still enough.
Besides, you can do some upgrades on your own. In comparison to the other ones at the same price, this feature is a big benefit. 
Pros:
Easy to set up
Has resume printing function
All metal frame body
Can be customized
Cons:
Has problems with the control box
Stops printing randomly
Metal hot end clogs easily
How to set up your CR-10 V3 the right way: 
Key features:
Item dimensions: 29.76 x 19.21 x 6.46 inches
The new auto levelling system
Silent operation
All-metal body
Touchscreen
This machine is the best dual extruder 3D printer under $500 to try if you focus on the printing speed. It prints at 1.5 times the speed of an I3 structure printer while keeping the same level of precision. High-speed and high-quality results are important to many users. You may print at speeds ranging from 50 to 120 mm per second while keeping a layer thickness of 0.15 millimeters. 
Besides, this is entirely made of stainless steel, allowing for minimal shaking and hence more precise models. It does not vibrate or shake even when making a part or functioning a design with a build volume equal to the maximum that this 3D printer can give. It manages to keep stable even when you work at a high speed.
According to the maker, this one produces less than 50 decibels of operating noise. Thus, it is suitable to use at both companies and home. 
Pros:
Easy to use
Quiet working
Titan extruder gives smooth feeding and less drawing
Auto leveling
Lattice platform hot end
Cons:
Has to choose the correct power supply
No filament sensor
The design is not very efficient
Real printing experience with FLSUN QQ-S:
Key features:
Item dimensions: 30.25 x 21 x 9.75 inches
95% pre-assembled
Fast speed
Runaway protection heat bed
Filament run-out and power loss detector
The product has a long list of amazing features. It includes everything we have come to expect in good 3D printers, from the inductive end stops to a direct drive extruder. The only thing missing is an automatic leveling sensor. 
Like many other ones on this list, it also comes pre-assembled and almost ready to use. The set up guidelines, on the other hand, are unnecessary because only the filament roll holder and the assembly must be screwed on. Besides, it gives a good impression when it comes to print quality. It prints good models right out of the box. You can make adjustments to the settings to get even better results.
At great heights, though, it will begin to swing a little. If this happens, slow down the process or tighten the frame later then. 
Pros:
Almost pre-assembled
Quiet operation
Fast speed up to 150 mm/s
Has break resuming feature
Has filament run out detector
Cons:
Poor directions
Unstable sensors
Has clogging issues
Is Artillery Sidewinder a good investment?
Printing Tips for Dual extruders
Printing an amazing object with more than one extruder can be a bit of a struggle. Don't worry, we have some tips for you:
1. Enable prime towers (extruder printers print)
There will be more oozing if there are more extruders. Prime towers (also known as blocks) are likely included in your slicer's print settings to assist prevent this. This results in the creation of a new object in addition to the one being printed. Before switching to the other nozzle, the inactive nozzle is wiped on the tower after each layer is printed.
2. Ooze shield:
Another way to stop oozing is to use the ooze shield. Outside the model's perimeter, a one-layer wall is built to catch any residual material on the nozzle before each layer is printed.
3. Set up the slicer:
Before you start, check to make sure your slicer software is set up correctly. Selecting the suitable printer and enabling both extruders in the hardware settings are the first steps. It is also possible that you may need to measure the distance between the two and ensure that it is reflected in the settings.
Best Dual Extruder 3D Printer Under $500: Things To Consider for 3d printer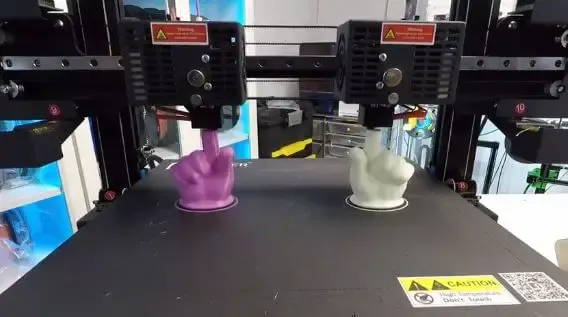 Before deciding which one is the best product, you should ask yourself the following questions:
Do I need two extruders that are dependent or independent?
Are the speed and volume important to me?
What other things do I need in order to meet my printing purposes?
Besides, these are other things you need to consider:
1. Type of the printer:
Knowing what you want to make with a 3D printer is important. There are many different kinds of this one on the market. They come in a variety of sizes, shapes, and even printing techniques.
They can work with many materials and for different purposes. As a result, you should research the kind of printer you need, as even a small difference might make a big impact.
2. Type of the materials:
Different machines work with different materials. Some use normal filaments, although others may work with water-soluble or special ones. Some can use only one filament, while others can work with two filaments at once. 
Because it should print the same material, the type of machine you need can be chosen by the type of part or functional design you want to make. We suggest you buy a product that can work with many different materials to save your time.
Moreover, because filament spools come in a lot of sizes and colors, you have to check carefully whether if it matches with the machine or not. 
3. Print quality of 3d printer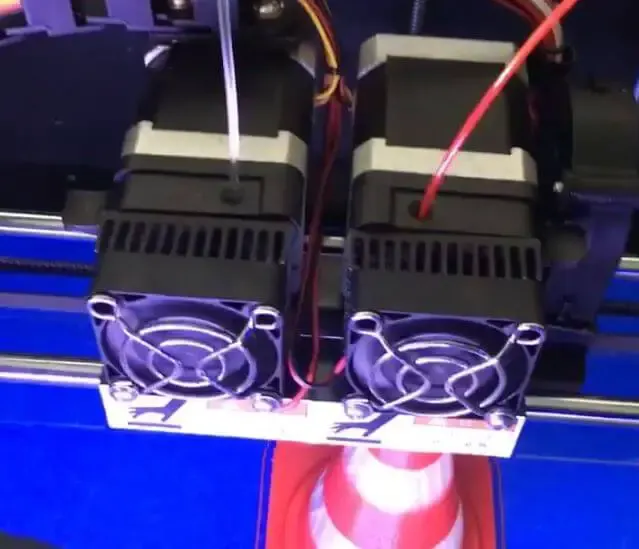 Experts and professionals may require fine and smooth models. High-resolution ones with robotic arms ensure finer details and keep consistency during batch production.
4. Capacity:
The printing volume is determined by the build volume size. It is best to get products that can print parts of various sizes depending on the size of the components you need to make.
5. Safety:
The safety of the users is the first priority of any product maker. You should make sure that the one you are going to buy is safe to use. Some materials leak toxic gases that can affect both your health and the environment. The fumes might be dangerous if exposed for a period of time.  
We advise you to do some searches on the internet, read the comments of previous users, and choose reliable manufacturers. Moreover, if possible, choose an environmentally friendly one and follow caution when using it.
6. Customization:
This feature makes a 3D printer stand out from others since it allows you to personalize the printer to your specs and needs.
7. Price and cost:
To almost all people, this is one of the most crucial things to think about. Prices can range from $100 to more than $5000, depends on its capacity and features. Furthermore, setup, operational, and maintenance costs can all add up to big financial spending for you.
Best Dual Extruder 3D Printer Under $500: Independent dual extruder or Professional dual extruder
1 – What Is The Best Support Structure?
The most common type is lattice support. They are popular because they are simple to customize, quick to create, and work with a wide range of 3D models. The disadvantage is that if the supports are not printed properly, they might leave marks on the finished object and be difficult to remove.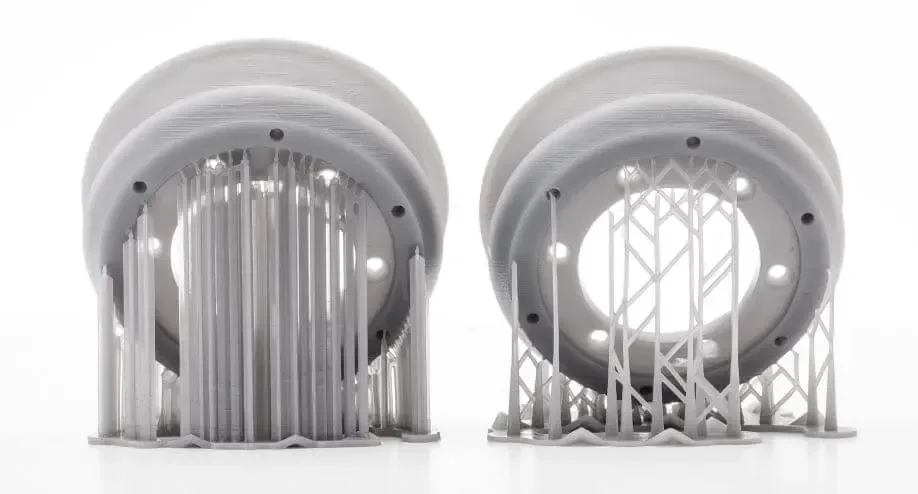 Printed models with a support structure (Source: All3DP)
 2 – How Can I Clear A Clogged Nozzle?
You can remove the nozzle from the print head and soak it in acetone for many hours. The acetone will dissolve the substance in the nozzle, making it possible to clear it out with a needle. These steps are straightforward and straightforward, and if followed correctly, you should be able to resume 3D printing in no time.
 3 – Why Do I Need The Heated Beds?
This part is used to improve print quality by keeping the extruded plastic warm and not warping. Warping is a common problem caused by the plastic on the part's edges cooling at a different rate than the plastic inside the part. It may ruin your whole project if you are not careful.
 4 – What Can Not Be Made With Dual Extruder 3D Printers? Bibo dual extruder or Dual extruder printers
These printers need high heat required for extrusion. Therefore, they are not suitable for wood, paper, cloth, and even rocks. They may burn and cause some problems. 
Conclusion
In summary, those machines are valuable and useful when you want to print hard things. However, their costs are still pretty high. Therefore, you have to make careful considerations before deciding.
GEEETECH A10M is our top suggestion if you are still confused. Although its price is unbelievably low, you can still have the best features you expected in a good dual extruder 3D printer. Or if you want to build large models, CREALITY CR-10 V3 is ideal for you. This machine is widely used by a lot of users and gained positive comments around the internet.
We hope you can find what is the best dual extruder 3D printer under $500 after reading our article. Remember the most important thing is choosing what fits your needs best, not the most expensive ones!
Further Reading:
Tags:  dual extrusion,  dual extruders,  dual-extruder,  within, dual extruder setup,  dual extruder printers,  dual extruder system,  dual extruder printing,  flashforge creator pro,  dual extruder printer, guide, suppliers, pc, palette, industry, manufacturing, ultimaker,  printer review, deals, prusa, fdm, credit, idex,  tl, qidi, flashforge, free, dual, idex, pc guide, under