Creality Ender 5 Plus Vs Cr 10 v3 are both excellent choices for DIY makers.
Which is better?
Today we take an in-depth look into how they compare against each other when it comes to cost, performance features such as a heated bed or dual extruders, etc., size limitations that might make one more ideal than another depending on what type of print job you're looking to tackle – all so that by the end I can recommend which 3D printer out there deserves YOUR hard-earned cash this month!
---
Creality Ender 5 Plus Vs Cr 10 v3
Key feature
Save time and reduce waste.
Reduce the risk of printer failure.
You'll be able to print more parts in a day, which means you can grow your business faster than ever.
Easier to assemble and operate.
Higher precision printing.
The direct extruder is more helpful and reliable.
It minimizes the distance for filament traveling to the hot end, which makes it more reliable when printing with flexible soft filaments like TPU or ABS.
You can finally print reliably with any kind of filament without worrying about stringing or oozing.
The two fans will keep your printer running smoothly and cool.
A silent motherboard reduces noise and vibration.
You'll be able to print for longer without worrying about overheating or jamming.
The all-metal frame will make your prints come out with higher accuracy.
Equipped with a 24V/350W Meanwell power supply that can rapidly heat up to 100 degrees Celsius.
Your prints will be more accurate and detailed than ever before.
Feature Details – Creality Ender 5 Plus Vs Cr 10 v3
1. Creality Ender 5 Plus
1. Large Build Space
Put your creativity to the test with an astoundingly large build volume of 350 x 350 x 400mm!
Compared to a normal medium-sized 3D printer like the Ender 3, measuring up at 220 x 220x 250 mm (not including bed size), it outcompetes and outperforms this machine in every way.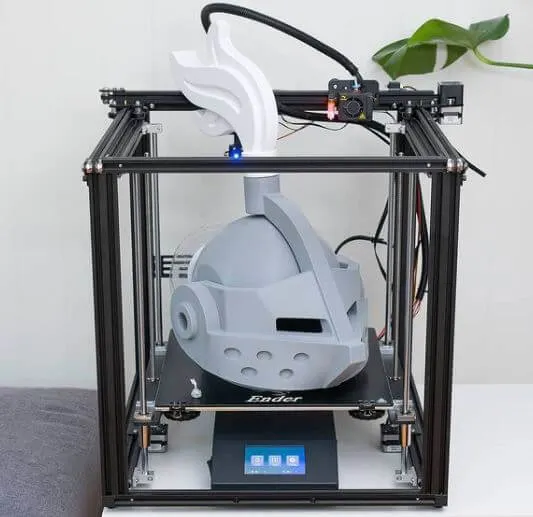 The Ender 5 Plus is perfect for those who want to make large 3D printed projects.
We have found the design of this printer well worth the investment in order access gets a quality machine that will produce high-quality prints reliably without any hassle or frustration from users!
2. BL Touch Auto Leveling Sensor
Many 3D printer users have to deal with manual leveling, which isn't usually too bad if you have a flat surface.
The printing process goes a lot smoother when you get an automatic solution like the Ender 5 Plus that starts when it is plugged in and automatically levels itself for perfect prints every time!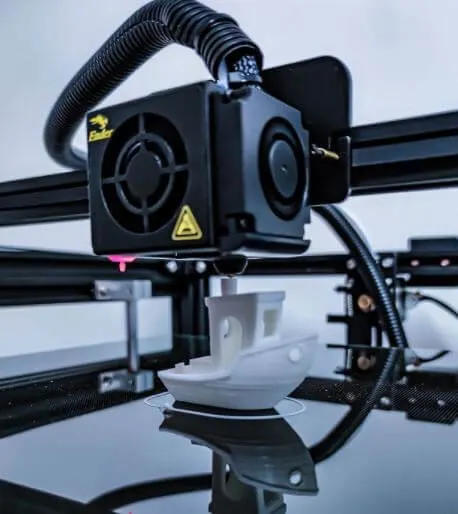 This sensor is an essential component to maintaining a high level of precision.
With it, you can compensate for the unevenness in your printer's bed surface by making sure that all surfaces are leveled properly and evenly.
It also guarantees top-notch printing quality with every project!
3. Filament Run Out Detection
With a larger 3D printer, you are going to be printing through plenty of filament.
This is why having an option for "filament run-out detection" may come in handy!
This is handy for when the filament breaks or runs out altogether, and will pause your machine until you've fixed what needs to be fixed.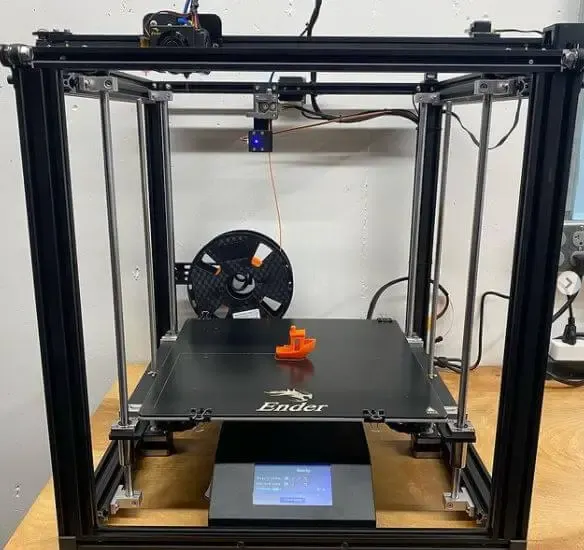 4. Y-Axis Dual Shaft Motor
This is especially necessary for a larger printer, as the high precision ensures that every inch of your 3D design is expressed in detail with no missteps along the way.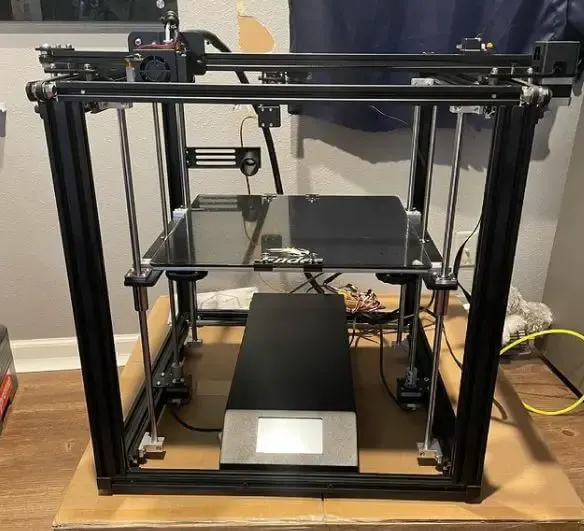 5. Strong Power Supply Unit
This ensures top safety for your printing needs!
The power supply used in the printer is a key component that provides 500W of heat to quickly reach 100℃, which can be done within 10 minutes.
6. Thermal Runaway Protection
The printer comes with various security measures to protect you as a user.
Thermal runaway protection is a firmware function that automatically shuts the heating element down if it detects irregularities in the heating process, which can prevent fires and melt of plastic due to overheating on faulty 3D printers without this feature.
This may happen from thermistors coming loose, loose heater cartridges, or faulty connectors – all problems easily avoided by installing thermal runaway protection!
7. 4.3 Inch Color HD Touchscreen
The Ender 5 Plus is a 3D printer with an incredible 4.3-inch touchscreen that will make printing your perfect creations as simple and easy as possible!
With the built-in HD display, you can easily view all of the key information about your print status to ensure that it runs smoothly for any user.
8. Dual Z-Axis Lead Screws
Some 3D printers come with dual Z-axis lead screws, which allow the layers to be deposited more accurately than if there were a single screw.
This is necessary for larger machines because they need to move heavy objects from one point of space in order to create something new and it would not work otherwise.
Without this feature, prints will show very visible layer lines throughout their construction that makes them look less professional or aesthetically pleasing.
9. Tempered Glass Plate
The Ender 5 Plus is the perfect 3D printer for those who desire a smooth surface finish.
The glass plate that comes with it gives you an easy way to get your bottom half of the model exactly how they want and will make removing prints easier as well!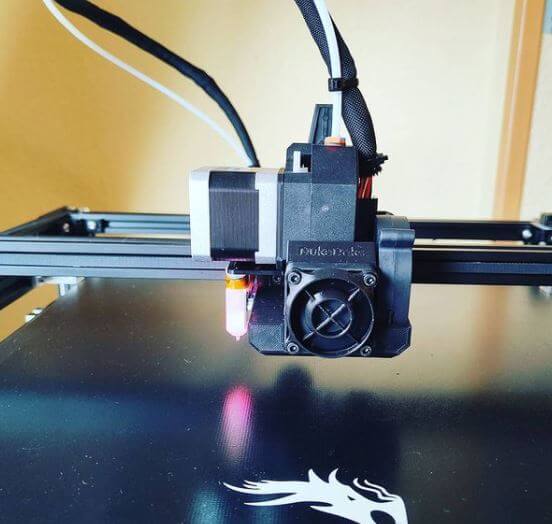 3D printers are all the rage these days, but people in this community may be wary of one drawback to glass plates.
They often show up ghosting – which is when a 3-dimensional design has an imperfection that results from movement or vibrations from large objects nearby.
But with its dual Y & Z axis stabilizer making it rock solid and stable for precision prints, there's no need to worry about ghosts on your printouts anymore!
10. Partially Assembled Kit
Altogether, the Ender 5 Plus is a great 3D printer for people who don't want to have too much time put into assembling it.
The assembly becomes easy when many of its parts are already together, which you can benefit from with this device.
The assembly process still gives you knowledge on how each component works and fits in order to create your prints.
However, this doesn't take as long because most users mention that they found the assembly process very straightforward, and simple-to-follow instructions were given throughout their experience putting everything together themselves.
* Notes
Even though the Ender 5 Plus has a lot of great features, it does have its downsides.
One downside is that this printer can make some noise while printing.
To reduce the amount of sound emitted by your Ender 5 Plus you could do a few things such as getting an aftermarket silent motherboard and installing it within your printer or just using quieter fans to help muffle any sounds coming from inside which will lead to hearing only cool air being blown out instead if loud noises emanating from inside not so quiet machine!
This 3D printer is a worthy purchase, especially for those who want to do larger build projects.
The Ender 5 Plus is fully open source and stable with durability that thousands of users love having by their side.
Related:
2. Creality CR-10 V3
https://www.amazon.com/Creality-Mainboard-Meanwell-All-Metal-300x300x400mm/dp/B07XYVD2C1?crid=2XG8SNMA616IG&dchild=1&keywords=cr10+v3&qid=1628570958&sprefix=Cr+10+v3%2Caps%2C436&sr=8-1-spons&psc=1&smid=A2ALB3RMNIRLH8&spLa=ZW5jcnlwdGVkUXVhbGlmaWVyPUE4UERLRURTSExTNEwmZW5jcnlwdGVkSWQ9QTAyNjYxMTgxRU5VNFQ4R1NKOUNGJmVuY3J5cHRlZEFkSWQ9QTA0NTEyMzIzQ1BWRjlIMFU3MTVLJndpZGdldE5hbWU9c3BfYXRmJmFjdGlvbj1jbGlja1JlZGlyZWN0JmRvTm90TG9nQ2xpY2s9dHJ1ZQ%3D%3D&linkCode=ll1&tag=printerpreneur-20 &linkId=e0a7c87826dd269a1e4946a748ce3e7f&language=en_US&ref_=as_li_ss_tl
1. Sturdy Frame
The Creality CR-10 V3 is the third iteration of a 3D printer that has been popular since it was first released in 2016.
The new version includes two metal rods to connect the top and bottom frames which create what's called "a golden triangle".
This makes for an extremely sturdy frame, making this model one of few printers on the market capable of printing objects as large as 300x300x400mm with ease.
2. Direct Drive
Imagine the peace of mind that comes with a direct drive extruder.
With this method, you know precisely when to load your filament and never have to worry about retraction ever again!
You can even print flexible materials without any issue whatsoever – what more could one ask for?
The Titan Direct Drive from E3D is an incredible new way to get prints off paper faster than ever before.
This powerful tool has changed printing as we know it by revolutionizing everything from loading times, retractions speeds, general handling capabilities through flexibles filaments and so much more.
Of course, Direct Drives are not without their flaws.
For example, the added weight to the gantry due to motor location can cause more vibration and backlash at higher speeds when printing especially for such small objects like these tiny gears!
In fact, our newest direct drive motors have a lot of advantages that make them stand out over Bowden Drives.
The biggest draw is how much quieter they operate because there's no Bowden tube from which all those vibrations come in contact with your object being printed on top–and you know we want as little noise pollution during print time as possible!
With a dual-cooling setup, the new print head ensures that your filament is always cool during printing.
One fan keeps you from burning out the hot end while another exhausts heat through one of two vent ducts to keep everything running smoothly and at optimal speeds.
3. Improved Print Bed
The new ceramic coated glass bed is a major improvement over the old metal sheets.
The material sticks better and there's no need to use tape or glue which makes it easy for everyone, even beginners. With one simple turn of the knob, your print comes out!
Though it's worth noting that this surface can be easily damaged when using sharp objects like, for example, a spatula.
The print nozzle also has the potential to scratch or damage the bed so you should take care not to bump into it during printing.
4. Filament Runout Sensor
The Creality CR-10 V3's filament runout sensor is a handy feature, especially when printing large parts.
When the printer runs out of material and pauses to tell you that it needs more, all you have to do is change it for another roll!
The 3D printer also has a resume after power loss function, which means if the power is lost for some reason, the machine can continue printing as usual when it returns.
5. Powerful Control Box
The upgraded control box is a real, bold step forward in the world of 3D printing.
The new 24V / 350W Mean Well power supply enables higher temperatures and wider range of materials for your perfect print job – all with just one knob!
6. Silent Stepper Drivers
These silent motors not only produce less noise than their predecessors but are also much quieter to a point where you can't hear them at all over the sound of other moving mechanical parts and fans in your control box.
The 3D printer offers three cooling fans as well as two on each print head for one very quiet machine that will provide smooth prints from start to finish without any interference due to its silence.
I've been using the Creality CR-10 V3 for a week, and I can't say enough good things about it.
The Titan Direct Drive really is fantastic because you can get such high-detail printing with flexible materials too!
With a lot of people finding the Creality CR-10 V3 to be too costly, there's been an increase in interest for other 3D printers.
The ANYCUBIC Vyper 3D Printer is one option that may meet your needs and budget better than the more expensive competition.
Read more:
Conclusion
The Creality Ender 5 Plus Vs Cr 10 v3 are both great 3D printers with their own sets of pros and cons. If you're looking for a cheap machine that can print quickly, the Ender 5 may be better for your needs. However, if you want to have more control over quality or printing materials, then the Cr-10 would probably suit your purposes better.
Further Reading: